Cammeray Marina

Scott-Free's blog
Steve & Chris
Fri 11 Dec 2015 19:08
Friday 11th December 2015
Having settled on our buoy we ventured ashore to check out the facilities at the marina. It is actually a working boatyard with two small slipways to haul boats out, a large mechanics shed and one long pontoon with finger pontoons off, as well as the mooring buoys. At the office we sorted out the paperwork, and the owner/manager showed us where to find the bathrooms, laundry, washing lines, rubbish bins and where to tie up the dinghy. He also showed us the 100 plus steps we need to climb to get to the road, but we had already been warned about them by a yachtie. We'll be taking them slowly on the way out, that's for sure!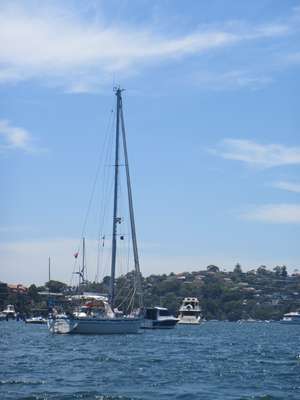 S-F on her buoy – surrounded on all sides by land which rises steeply- either woodland or housing.
Later we ventured up the steps and having taken a couple of opportunities to stop to enjoy the views, made it to the road at the top, and found our way to the local bus stop, a ten-minute walk up a hill! We will certainly be fitter by the time we leave here! The bus took us right into the centre of the city, where we spent an enjoyable few hours wandering around before heading back to face the steps again. At least we were now going down them, and that wasn't half as bad!
The street entrance to the marina. Down the first flight, and looking back up to the street.
Down the next... ..and the next...
...and down the next... ..and then the next...
...and the next... ...to the bottom. Phew!
So, it seems that we are pretty well set here now to really explore Sydney over the next few weeks, and get ourselves fit as fiddles in the process!
---