Charleston

Scott-Free's blog
Steve & Chris
Sun 4 Dec 2011 13:47
Sunday 4th December 2011
We awoke on Friday morning to find there was plenty of room in the anchorage in Ashley River and there was no need to move, so we set about tidying the boat with the plan of going ashore later in the day. We had made contact with the OCC Port Officer Emmett and he suggested we meet around 1600 at the Charleston Yacht Club. He very kindly collected us and drove us around downtown Charleston, pointing out places of interest, before taking us back to the yacht club where he signed us in as guests. The members were extremely welcoming and we stayed for drinks and as it was 'First Friday' were invited to join them for a meal. This was prepared by some of the members and is a regular event on the first Friday of each month. The food was good and much appreciated, and we went back to our beds happy and satisfied.
Charleston Yacht Club and dinghy dock.
We had arranged to meet Emmett again the following morning and he drove us to a hardware store to get propane for Nimue and a Harris Teeter supermarket to stock up on food supplies. On the way he took us to his home to meet Mecca, his wife, who had unfortunately suffered a bad fall a few months ago and is still recovering her mobility. We stayed a while and exchanged life stories as you do. Mecca and Emmett had reluctantly given up living on board their ketch about seven years ago and are now land based, having cruised for twenty years in and around the Bahamas.
All stocked up, we arranged to go ashore to the Yacht Club that evening as they were providing Irish coffee and dessert after the Christmas boat parade. We weren't particularly interested in seeing a parade of local boats, but were just about to leave the boat to go ashore when the first parade boat came into sight heading our way. It was lit up like a Christmas tree – literally! Now we understood what the boat parade was all about as more and more boats of all shapes and sizes came past us with their Christmas lights ablaze. What a sight!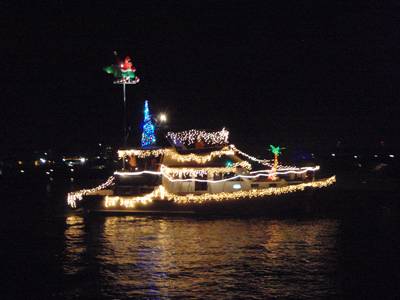 The Charleston Christmas Boat Parade – what fun!
Once the parade had been past us and back again, we headed ashore to the yacht club and spent an enjoyable evening chatting with the locals who are very friendly and welcoming and interested to hear all about our travels.
---