Arrival at Savusavu, Vanua Levu, Fiji

Scott-Free's blog
Steve & Chris
Tue 9 Jun 2015 16:44
16:46.649S 179:19.99E
Tuesday 9th June 2015
Distance run so far: 369 nm
Distance run Day 4:  88 nm
Total distance run:  457 nm
We motor-sailed again until around midnight, when a breeze picked up from behind, and we had a lovely, gentle sail under headsail alone and on flat seas all the way into Savusavu Bay.  As we approached Point Passage, the gap in the reef through which one enters the bay, it became obvious that we would share it with a ferry doing 12 knots on its way to Savusavu from Suva.  I was enjoying my night sail so much, I decided I would not switch on the engine to get out of his way, but held my course and waited to see what he would do.  Eventually he just tweaked his course slightly and slid past our port side as we both rounded Point Reef.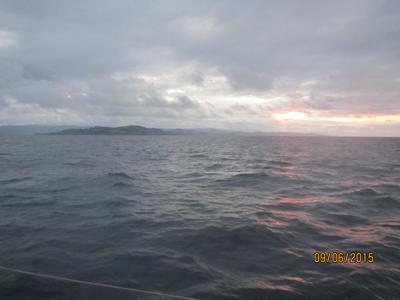 Approaching Savusavu Bay at dawn.                                                                     The inter-island ferry with which we shared Point Passage.
Raising the Fiji courtesy flag and 'Q' flag.                             It's a long time since we've seen sand and palm trees! Hoorah!
Once inside Savusavu Bay I was joined on deck by the skipper and we started preparations for arrival in port.  We called up the authorities on the VHF to request permission to enter – no answer, still in bed probably.  No problem, we headed in anyway, calling instead the marina where we planned to do the check-in formalities.  By 0800 we were tied alongside the Quarantine dock and awaiting the arrival of officials.
We were visited by officials from Health, Biosecurity (formerly Quarantine – should the yellow flag now be called the 'B' flag?) and Customs.  All very pleasant and friendly people, no hassles at all.  Our passports were stamped with a four-month visa, no charge, extendable for another two months if desired.  Health and Biosecurity were slightly painful on the wallet as we had to pay fees of some $260 (Fiji$3 = £1).  This involved a stroll into town to find the relevant offices, and it was nice to be ashore and stretch our legs.  We were greeted, "Bula", by so many people with big smiles.  I think we might like it here.
By mid-afternoon we were happily settled on a buoy with the town and marina to one side and mangroves and a view through to the hills in the distance on the other.  Life is good.
---