Dash to Penang

Scott-Free's blog
Steve & Chris
Fri 1 Dec 2017 23:39
Friday 1st December 2017
We absolutely loved the air con unit. It was so good to be able to retire to the saloon in the hottest part of the day and cool down for a while.
There was just one BIG drawback of the unit… we wouldn't be able to use it as a dehumidifier when we left the boat. The plan was to leave it on a plug-in timer, but we discovered that when the unit was switched off at the plug, it would default back to air con mode when it switched back on again. Bummer! We were so disappointed as we had gone to great lengths to check out this function before buying it, but couldn't have foreseen this particular problem.
So it looked like we would have to get a dehumidifier after all. The problem with that was that we couldn't find anywhere on Langkawi where they sold them. After much searching on the internet and finding that delivery times from elsewhere in Malaysia would be way too tight, we found one available in Harvey Norman in Penang. A quick telephone call had it reserved for us, all we had to do was get ourselves down there to pick it up.
With the boat – and us – now in harbour mode, sailing back to Penang didn't appeal, but there were flights down to Penang available at very reasonable prices, and there was also a ferry from Kuah in Langkawi. The easiest way would be to fly, but there was a question whether they would allow the dehumidifier on board a plane, given that it contains coolant gas. We didn't want to risk having the dehumidifier refused on a flight, so we decided to take the path of least resistance, and booked a flight there and a ferry trip back. We were going to take advantage of the shopping trip to buy a couple of large wheelie suitcases for our trip back to the UK, and decided we could transport the dehumidifier back in one of those. That way there could be no questions on the ferry either.
So yesterday we took a morning Air Asia flight down to Penang, where we went straight to the Queensbay Mall to collect the dehumidifier from Harvey Norman. That done, we found a bargain on some cheap suitcases before heading off to check in to our hotel in George Town and dump our purchases.
We spent the rest of the day wandering around in George Town, and enjoyed seeing some of the colonial buildings and landmarks.
Penang Town Hall across the cricket pitch, Kota Lama Chinese Chamber of Commerce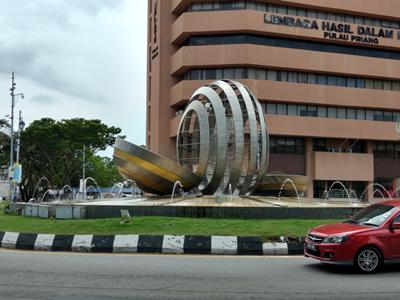 Queen Victoria Memorial Clock Betel Nut sculpture on King Edward's Place roundabout
Later, we had dinner at the Red Garden Food Court. This was a busy place where tables and chairs were surrounded by food stalls selling a wide range of foods at very reasonable prices. We took a while deciding what we wanted to eat, and shortly after finding an empty table, our dishes started arriving. None of the stalls sold beer, but we were visited at our table by a lady whose job it was to take orders and bring the beers in an ice bucket to your table. Excellent service! While we ate, we were serenaded by a singer from the stage in the middle of the court.
We chose roast duck, and it was delicious. Washed down by a cold beer in a tiny glass.
Just a few of the food stalls around the edge of the food court. We passed St George's Church on our walk back to the hotel.
This morning we were not due to leave on our ferry trip back to Langkawi until after lunch, so we left the luggage at the hotel and went to visit Fort Cornwallis. Built in 1786 on the site where Captain Francis Light first set foot in Penang, it was originally a stockade built of nibong palms with no permanent structures. It was rebuilt in 1804 of bricks and mortar using Indian convict labour. Its function has never been an actively defensive one, but more of an administrative one. Today its ruins make a pleasant oasis of peace and calm in contrast to the noise and bustle of busy George Town.
Statue of Sir Francis Lightfoot.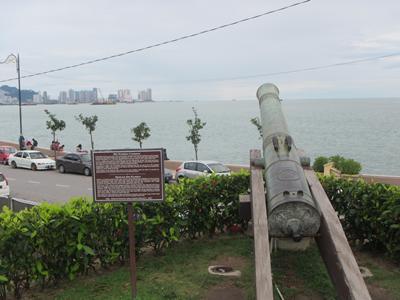 Light beacon and signalling mast. The Seri Rambai cannon, regarded locally as a fertility symbol.
After a pleasant hour strolling around the ruins, we collected our luggage from the hotel and walked to the ferry port to check in for our trip back to Langkawi. When a small motor cat pulled alongside the dock, I remarked to Steve that it would have to get out of the way before our ferry came in. Next thing I knew, we were being told to board it! That was indeed our ferry. Happily it got us safely back to Langkawi where we got a taxi then a ferry back to the boat.
The dehumidifier works a treat, and is small enough to sit on the galley island worktop with a hose down to the fridge outlet to drain the water. Success!
---