Stanley

Scott-Free's blog
Steve & Chris
Sat 6 Feb 2016 14:40
Saturday 6th January 2016
This morning we went for walk around the town of Stanley. We had a map of the Heritage Walk, and generally used it as a guide for our wander. We liked the town very much, with its wide streets leading down to the sea and its well-kept houses.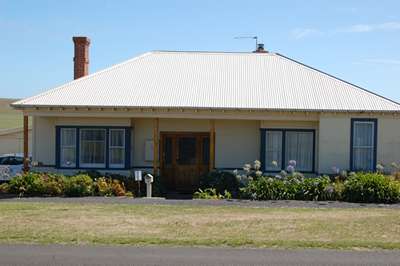 Neat, well-kept homes on quiet streets. The old school-house.
Brick chimneys attest to cold winters. The only house we saw that was in need of some TLC.
The former VDL Company store built from bluestone in 1843. Birthplace and home of Joseph Lyons, Australian President '32-'39.
Colours reminiscent of Greek buildings - St. James's Presbyterian. A lone grave on the hillside. They died when their boat capsized off The Nut.
The Star of the Sea church, down b y the foreshore at Godfreys Beach.
What a lovely place to be laid to rest.
Stanley Hotel in the main street. The bluestone former VDL Company store in front of The Nut.
On the main street we stopped for coffee, and on the way out of the cafe we passed through an art and souvenir shop, where we were delighted to see a lovely print of a Superb Fairy Wren, that pretty little bird with a blue head that we had seen on Muttonbird Island at Coff's Harbour, and on many occasions since. We both thought the same thing – that it would be perfect for the space on the wall in the saloon. So we bought an unmounted copy for later framing.
The Superb Fairy Wren print.
We liked Stanley very much. We often think about the places we visit in terms of whether we would want to live there in our retirement, and this little town certainly had a lot going for it. Tasmania is one of those states where retirement visas are 50% cheaper to 'buy' (in terms of how much you are required to deposit with the state government in order to have a retirement visa granted) so not impossible. But then common sense and reality kicked in as we thought of practical factors – climate (horrid in winter!), medical services (no major hospital for miles!) and above all distance from family (thousands of miles!)
So Stanley was added to the 'Nice to visit but couldn't live here' list, and we headed out of town.
---