Sydney Fish Market

Scott-Free's blog
Steve & Chris
Mon 21 Dec 2015 23:19
Monday 21st December 2015
We left the Lego models behind and started to explore the main Museum of Sydney. It is built over and around the remains of Australia's first Government House and through a series of interesting exhibits follows the growth of Sydney to the large and lively city it is today. We took a range of photos to record the visit, but unfortunately they seem to have disappeared. If at some point in the future I find them hiding in a most inappropriate place in my photo filing system, I will add them to this blog!
So, after an interesting morning at the Museum of Sydney, where we learned about the history of the city, we jumped on a train and then a tram to the Fish Market. We had read and heard good things about the fish and chips here and were looking forward to sampling it for lunch.
We changed at Central. Sydney trains are double-deckers. The Grand Concourse at Central Station.
First we saw the loading docks, then found the public entrance to the fish market.
Bright and clean inside the market. More oysters than you could shake a stick at!
Lots of choice of fish. Very fresh – still alive in fact.
A rather cross-looking crab! Blue crabs.
We must have arrived at the busiest time, because it was manic and very noisy in the market. Between the stalls selling fish were tables and chairs absolutely choc-a-bloc with people eating out of take-away cartons. We looked out at the outdoor seating area which was just as busy, and the sky was clouding over ready for rain...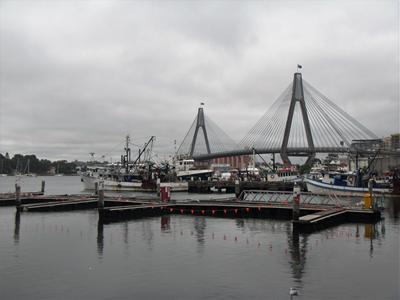 From the outdoor seating area we could see across to the Anzac bridge and one of the anchorages where we stayed on our first two nights.
...so we went into Doyles restaurant where it was quieter, and enjoyed a very tasty fish lunch.
My grilled salmon – enough for two! Bon appétit...and Cheers!
Heading home on the very modern and smooth double-decker train. An older station, with very London Transport-type signage.
---