Back on buoy #1

Scott-Free's blog
Steve & Chris
Sat 25 Apr 2015 18:05
35:18.76S 174:07.392E
Saturday 25th April 2015 - ANZAC Day
After an excellent night's sleep, we had another slow start to the day, with a leisurely breakfast in the cockpit, and lifted the anchor around mid-morning. With around 10 knots of wind from behind, we had another gentle sail downwind under headsail out to the west side of Roberton Island where we hoped to fish. However, there was a big swell in this part of the bay, left over from yesterday's stronger winds offshore, and it was too lumpy for fishing there. We turned back and tried a spot to the south of Roberton, but again it was very lumpy and we were drifting too fast for the lines. So sadly no fishing again today.
Instead we had a glorious downwind sail past Russell and Paihia and almost all the way back to the buoy. With a nifty bit of teamwork between Anne and I, we managed to get the line through the eye in the huge rope and secured over the bow roller with the minimum of fuss. Time for a shower before a drink and supper at the yacht club with Rod and Mary.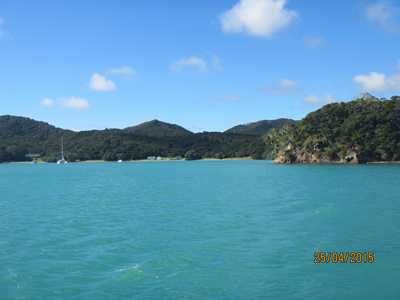 Leaving the anchorage at Opunga Cove.
---