Great Harbour, Peter Island, BVI

Scott-Free's blog
Steve & Chris
Sun 8 Apr 2012 17:16
18:21.511N 64:34.991W
Saturday 7th April 2012
Distance run: 4 nmiles
A leisurely breakfast this morning as there was no rush to lift the anchor. The anchorage we were heading for on Peter Island was just 4 nautical miles away. We arrived late morning and dropped the hook fairly close inshore where even there the water was 18 metres deep! The plus side was that we could swim to the reefs from the big boats. The snorkelling here was every bit as good as in Norman Island, far less busy with people, AND we saw turtles here too. Wonderful!
We liked this spot so much we decided to stay a couple of days.
On the second day we took the ribs ashore and set off on foot for the bay just around the corner, where there is a holiday resort, in search of wifi and coffee & cake. We found wifi at the beach bar, but no coffee & cake – instead the most delicious mango smoothie I have ever tasted! There was a steel pan band playing too, so we whiled away an hour or two in the pleasant surroundings.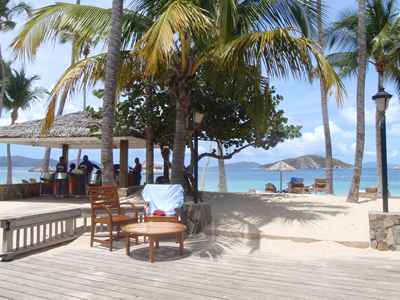 A steel pan band playing at the beach bar. The most delicious mango smoothie!
Back at the boat we went for a dip to cool off, and then the sky began to cloud over as a squall passed through, leaving behind it a beautiful rainbow, captured on camera over Scott-Free by Sarah (or was it Rob?!)
Scott-Free under the rainbow.
In the evening we once again enjoyed watching the sky change as the sun went down.
Sunset
---