Hawknest Bay, St John USVI

Scott-Free's blog
Steve & Chris
Wed 4 Apr 2012 21:42
18:20.948N 64:46.79W
Wednesday 4th April 2012
Distance run: 12 nmiles
We spent a day in Charlotte Amalie. Sarah and I went ashore to look at the shops, but found nothing of interest as they are all aimed at the cruise ship passengers, so lots of jewellery shops and souvenirs, but not much else. We did manage to find a reasonable coffee shop and stopped for cake and coffee before summoning our driver (Rob) for a lift back to the boats. Later we did some supermarket shopping, but Sarah was not impressed and said that the supermarket on Tortola had a better range of goods and was cheaper. We only visited Cane Garden Bay on Tortola last year and didn't get much beyond the beach, so hope to see some of it this time.
Later we went ashore to happy hour at Mojo's and then to the Shipwreck Restaurant to try what they claim are the best burgers on the island.
After a bit of a lie-in this morning we lifted the anchor and motored 12 nautical miles to Hawknest Bay on St. John, the other large US Virgin Island.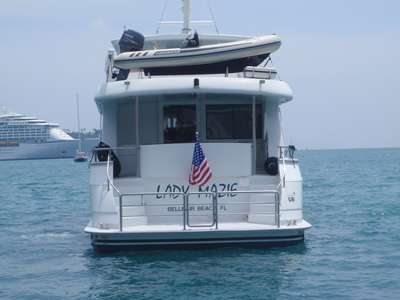 Liked the name of this motor cruiser in Charlotte Amalie. It is SO good to be sailing alongside Serafina again!
We picked up a buoy as this is National Park and anchoring is only allowed if there are no buoys available. There were plenty available and once the boat was settled we went for a swim. Later Steve, Rob & Sarah took the rib over to a buoy near the reef and went snorkelling, while I had a snooze.
Later we joined Rob & Sarah for dinner on Serafina, and the swell which had been forecast was really beginning to pick up, and we had to hold on to the cutlery as it kept sliding off the table as we rolled from side to side! We had known the swell was coming, but had thought the bay would be sheltered by the other islands. Apparently not!
---