Paradise Bay, Urupukapuka Island

Scott-Free's blog
Steve & Chris
Thu 23 Apr 2015 22:11
35:13.079S 174:13.575E
Thursday 23rd April 2015
After lunch, Anne chopped up squid and pieces of fish for bait, and we drove the boat out into an open area of water south of Roberton Island, switched the engine off and drifted. Anne & Steve no sooner had their lines in the water than the first fish bit, a young snapper. There are strict restrictions on the size and amount of fish that may be kept, and Anne knew this little one was nowhere near big enough, so he was taken gently off the hook and thrown back in. He was followed by a further 20 or more young fish in fairly quick succession.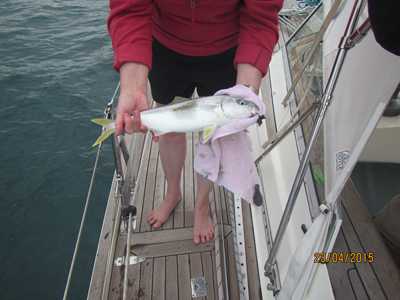 The first catch – a young snapper.... followed by a young kingfish.
Often there were two snapper on the line. Anne & Steve fishing for our supper.
During this time I was keeping my eye on where the boat was drifting, to make sure we didn't get too close to rocks or the shore. The anglers' luck changed for the better when we drifted into deeper water, and the size of their catch started to increase. Before long Steve had caught a couple of snapper big enough to be kept, and although I was wary of letting it get too late before we headed off to find the anchorage for the night, we needed at least one more fish for supper. Just as I was about to call time, he finally brought on board another good-sized fish, and we set off for the anchorage.
By the time the sun began to set we were safely anchored in Paradise Bay, a lovely sheltered spot, and Anne set about filleting the snapper. Supper that evening was very fresh pan fried snapper with potatoes and French beans. Delicious!
---