Botany Bay

Scott-Free's blog
Steve & Chris
Wed 13 Jan 2016 23:45
Wednesday 13th January 2016
We headed south, through Bondi Beach and Clovelly to Coogee, then further along Anzac Parade until we found ourselves at La Perouse on the north shore of Botany Bay. It was very busy with lots of people around, so we decided to stop to see why. Unable to find a parking space, we gave up and doubled back to a turning we had passed a few minutes before, into the Botany Bay National Park. At the end of the road, we parked and continued on foot until we reached the foreshore, made up of distinctive flat rocks looking out over the Tasman sea. Walking further south along the foreshore, we would have arrived at Cape Banks which stands at the north of the entrance to Botany Bay, but time was pressing, so we returned to the car to continue our drive around the bay.
Looking out at the Tasman Sea from the rocky foreshore.
We drove around the north shore of the bay and accidentally ended up in Port Botany, which is now the main shipping terminal for New South Wales. When Captain Phillip arrived here with the First Fleet in 1788, it was decided that the bay was too exposed and the land too dry for settlement, and the Fleet moved on to Port Jackson. Nearly two hundred years later it was decided that Sydney was running out of space and could no longer accommodate shipping, and a new port was built ... at Botany Bay. It has deeper water and more space, and since the 1970's has been the site of Sydney's three major stevedoring and two bulk liquid facilities.
Looking back towards Yarra Bay from Port Botany. A wall of containers piled high at Port Botany.
We continued around the bay with the intention of driving all the way to the south head, but as we passed near Sydney's Kingsford Smith airport, the telephone rang. It was the ARB dealer to say that our fridge had been fixed and was ready for collection. The car was due back the following day, so if we collected it now, we would save ourselves an extra day's hire costs, so we turned the car around and headed back to Sydney.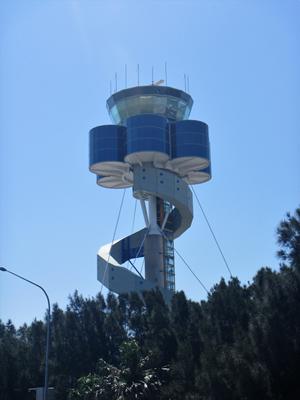 An interesting construction - the air traffic control tower at Sydney airport.
The fridge collected and safely stowed in the boot, we made our way back to the north shore, over the bridge, and realised this was the first time we had crossed the harbour bridge driving a car – the previous times we had gone under the tunnel.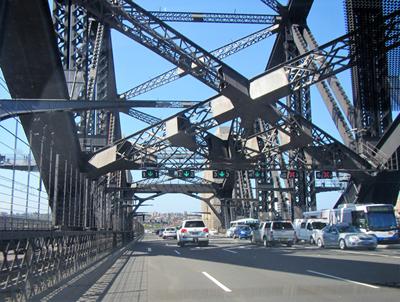 Driving across the harbour bridge.
Back at Cammeray we got Brett to bring out the marina launch so that we could get the fridge back on board. Now that we had it back, we could begin to make preparations for leaving Sydney and taking the boat up to Pittwater, where she will be left on a buoy while we do some land travel.
---