Camper van

Scott-Free's blog
Steve & Chris
Mon 1 Feb 2016 22:20
Monday 1st February 2016
Our taxi pulled up outside the unit dead on 7.30 this morning and we piled in our luggage and set off for the airport. Well, not exactly the airport, but very nearby – the Apollo camper van depot. We arrived as they were opening, and there, waiting for us was our 6-berth Euro Deluxe camper van.
Our home for the next ten days.
Yes, there were only two of us. No, we did not need a van this big. But we did want one that was self-contained with its own loo and shower and kitchen because we planned to free camp most of the time. That means parking in places where there are no facilities, and there are very strict rules about 'leaving no trace' in Australia. No peeing or pooping in the bushes, not even throwing away of your dirty dishwater, even though most of the plants look like they would welcome a drink. So you need to be self-contained and carry all your waste away with you, and find a 'dump station' to get rid of it legally.
There were smaller vans with such facilities, but we were camper van virgins and wanted our first experience to be good – the possibility of doing it again in the future rested on the success of this trip. Plus, it was a special offer which meant that for this particular 10 days we got this top-of-the-range van for cheaper than the 4-berth. Sold.
Steve was like a kid with a new toy and couldn't wait to get behind the wheel. I had some reservations, and although I was insured to drive it, I was not keen to do so. For some reason this made Steve even happier...
Anyway, we both listened carefully to instructions about the van's systems, but frankly there was no rocket science to it. Very similar to boat systems. Except for the loo, and that seemed straightforward enough. So we paid the man, loaded up, jumped in and set off for the nearest supermarket in Sorell. Well stocked up with provisions – the van had an enormous fridge and plenty of storage space – we turned onto the A3 Tasman Highway north towards the Freycinet Peninsula.
As we left town, we passed a Mitre 10 store, and realising that we needed some folding chairs to sit outside in, Steve made an excellent first U-turn so that we could go back to buy some. At $6 each they were cheaper to buy than to hire, so we were glad we stopped. Steve was very impressed with the steering lock on the van. The van was very comfortable to ride in, with great views from the cab windows. We stopped and made lunch at Triabunna, crossing the bridge and parking in a huge empty car park overlooking the water.
We stopped to have lunch in Triabunna, overlooking the water. Not the most attractive spot, but ok for a first try. We will get better!
As we got closer to the Freycinet Peninsula we began to see vineyards, and stopped at Devil's Corner Cellar Door which had a viewing platform out over the vineyards, Moulting Lagoon and the pink granite mountains of the Hazards Range. We decided against doing any tasting as we still had a way to drive to the campground, but the cafe had fresh oysters from the Freycinet Marine Farm on sale and as it was my birthday we bought half a dozen to go with the bottle of bubbles we had in the fridge for later.
The view out over vineyards and Moulting Lagoon to the Hazards beyond.
We drove on and arrived at the River and Rocks campground late afternoon. This was a free campsite beside Moulting Lagoon just north of the Freycinet Peninsula, and as such we expected it to be busy, but there were just a couple of caravans there and loads of space. It was lovely. We parked under the trees and went for a walk along the edge of the lagoon. Yes, this was all that we had hoped for. Absolutely beautiful.
Our first camping spot under the trees at River & Rocks campground. Moulting Lagoon, with the Hazards of the Freycinet peninsula behind.
Later we sat out in the warm evening air enjoying oysters and bubbles, counting our blessings and toasting another birthday in another country. Cheers!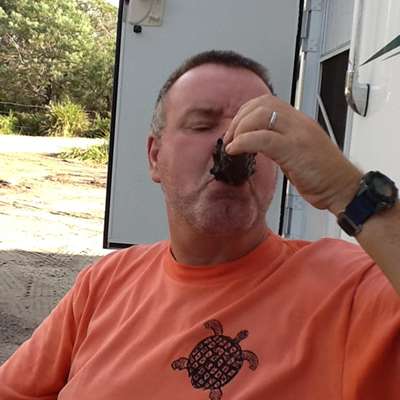 ---