From Zeehan along the Wilderness Highway

Scott-Free's blog
Steve & Chris
Wed 17 Feb 2016 22:31
Wednesday 17th February 2016
Having checked out of our hotel room in Strahan yesterday morning, we had driven to nearby Zeehan in the late afternoon after our boat trip on the Gordon River, and checked into the Heemskirk Motor Hotel. This morning after breakfast we went for a walk around the little "mining boom" town which takes its name from a nearby peak that was named by Abel Tasman after the ship he was sailing in. Three grand buildings on the main street were reminders of the heyday of this little town, which at the peak of its development rivalled Hobart and Launceston in size. During the silver boom of the late 19th and early 20th century it was known as "Silver City" with over twenty hotels along its main street.
The Gaiety Theatre Zeehan Post Office
West Coast Heritage Centre in the old School of Mines and Metallurgy
We spent some time in the Heritage Centre which was very interesting as it spanned all three buildings which held a wealth of old equipment related to mining and railways.
Mechanical computer, 1895 Pretty rocks!
Ovens for heating metal and ores.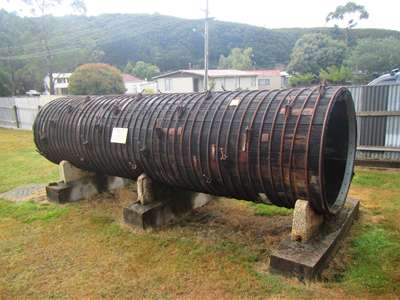 Wooden water pipe.
Electric street lighting powered by equipment built by Thomas Parker in England.
A film advertisement in the Gaiety Theatre.
Back at the motel to pick up the car, we realised we needed petrol, so drove back along the main street to the only petrol station in town. It was closed. Next door was a mechanics' workshop, where a litre of fuel, in a bottle, could be bought for $9, around £5. We passed, and headed out of town with fingers crossed that we had enough to get to the next town.
$9 per litre for fuel! Unbelievable!
An hour's drive brought us to another "Historical Mining Town" – Rosebery. It differed from Zeehan in that it actually still had a working mine. The difference was quite marked – this town was neat, clean, and well-kept, it felt alive and as though people were proud to live here. We stopped for a bite to eat in a busy café, filled up the fuel tank and continued on our way.
This public picnic/park area on the main street showed a pride in the town and its mining heritage.
The working mine down a side street off the main road.
We drove on along winding narrow roads through breathtaking scenery and stopped to get out of the car and take in the view at Lake Plimsoll.
Quiet, winding roads with wonderful views. Craggy barren hills.
Lovely view across Lake Plimsoll, a man-made lake. We were a little perturbed by the bullet holes in the signage!
Later we stopped again to look at some odd-shaped rocks called glacial erratics in the Henty Glacial Erratics State Reserve. These were deposited by a glacier around 500 million years ago.
This rock looks like it has a head.
We stopped at King William Saddle on the Wilderness Highway, between Franklin River and Derwent Bridge. A sign told us that we were at the Great Divide between the higher, wetter west of the island and the lower, drier east.
The rainfall map gives an instant idea of the difference in climate between the east and the west of Tasmania.
We pressed on as we still had some way to go before our overnight stop, but couldn't drive past Lake St Clair without stopping for a brief look. The day was wearing on, and the lake looked a little muted in the late afternoon light. Steve posed by the marker for the southern end of the Overland Track, pretending tiredness after completing the 80km trek down from Cradle Mountain. A photo at both ends does not necessarily mean he walked it!
A rather muted Lake St Clair Steve pretending to have finished the Overland Track.
Time was now pressing as it was after five and we still had another hour to drive to our overnight stop at Bronte Park. Not at the Hydro village this time, but at the rather more modern Highland Cottages, where ours was very nice indeed.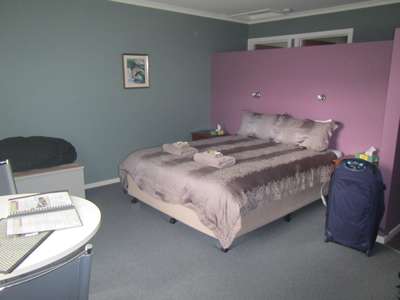 Modern comfort, but lacking the history and atmosphere of the Hydro village.
---