Albert Cove, Rabi

Scott-Free's blog
Steve & Chris
Sat 4 Jul 2015 21:15
16:26.653S 179:56.241W
Distance run: 15 nmiles
Saturday 4th July 2015
Anchor up at 1030 yesterday, and we motored out of Katherine Bay and back through the gap in the reef then turned to starboard and headed up the west coast of Rabi Island. We had a knot of tide pushing us along and made good speed, soon passing Nuku village.
Nuku village from the sea – Council building left, church right.
We arrived off Albert Cove by 1300 and now came the tricky bit as we headed in through the gap in the reef which was not immediately obvious at the start. We followed Curly's waypoints and with me at the bow looking out for shallow water and/or coral heads, we picked our way slowly into the bay. We found a suitable spot and dropped the anchor in the lee of a hill on the northern side of the bay, sandwiched between the beach and the huge reef. This was very different from the mangrove-lined bay we had just left. This was the stereotypical South Pacific island bay – turquoise water, white sand and palm trees – wonderful!
Time for a swim, so we donned snorkelling gear and swam to the reef from the back of Scott-Free. Here we had the best snorkelling so far in a wonderful reef garden with all sorts of coral and colourful fish. Unfortunately, our Canon D20 Powershot camera, bought not too cheaply for exactly this type of occasion, refused to work, saying that it needed its battery changed. The battery was fully charged. It has a habit of doing this, and when on dry land the way to deal with it is to open the side of the camera and give the battery a jiggle. This is the battery that came with the camera, I hasten to add, not some cheap spare. This is obviously not possible underwater, and we are therefore very fed up with the camera, which we would definitely NOT recommend. So thanks to Canon, one of the biggest camera makers in the world, we have no photos of this wonderful experience. Pepe on Beez Neez, however, had no such problem with her camera (also a Canon but not the D20), so if you'd like to see some photos, look at their blog at blog,mailasail.com/beezneez (or go to the 'List all users' tab at the top of this page, scroll down to Beezneez and click on it).
A longboat appeared in the bay and came alongside to say hello. They were going fishing/crabbing/lobstering on the reef and offered to exchange some of their catch for petrol. Bear parted with a couple of litres and we waited to see if they would return.
In the evening we joined Pepe and Bear for sundowners, and we sat and watched the sky change through beautiful shades of orange and purple as the sun slowly set.
Sunset from Albert Cove, Rabi.
Later the longboat returned to Beez with a couple of crabs and a parrotfish. It was too late for tonight's supper, and unsure how long the crabs would stay fresh, Pepe set about cooking them. Bear called with an invitation to crab and fish supper tomorrow – something to look forward to as we have not tried parrotfish before. We have so often enjoyed their beautiful colours when snorkelling and had never even thought about them as food!
This morning we took the rib ashore to have a look around, and were met on the beach by Joseph and his small daughter Teresa. He and his family live beside the beach and collect copra which they then take by longboat to Nuku to sell for 70 cents per kilo. They have no boat of their own, they must wait for a family member to come from Nuku with theirs. He took us to his house and introduced us to his wife and his father, and invited us to join them for lunch. We politely declined the offer, saying we would like to take a stroll along the beach. Joseph said he would accompany us, even though we said he should stay and have his lunch. He climbed a palm tree and collected a couple of coconuts which he chopped the top off for us to drink the water inside, and showed us 'rope water' which was a length of tree branch (or hanging root?) from which flowed fresh drinking water.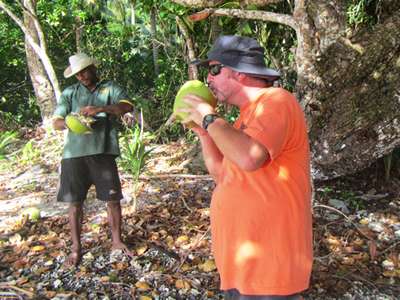 Joseph cut down some coconuts and prepared them for drinking. No rum in this one, Skip!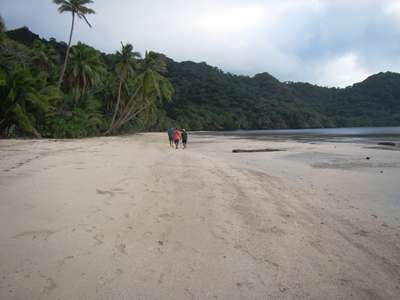 Steve & Bear stroll along the beautiful white sand beach chatting with Joseph.
As we strolled back to the dinghy we passed another house and Joseph took us in to meet the other family in the cove. The men had been across the island earlier, cutting copra, but had now returned. We went inside and sat for a while, attempting conversation, but they did not have a lot of English and we have no Banaban whatsoever.
Uncomplicated family life next to the beach.
Back at the boat, it was time for another snorkel on the reef, and we checked out the grassy area for turtles but could find none. Then it was over to Beez for supper, and the parrotfish turned out to be very tasty indeed!
---