Ile Tau Tau, Taha'a

Scott-Free's blog
Steve & Chris
Thu 22 Aug 2013 08:55
16:36.383S 151:33.481W
Wednesday 21st August 2013
We turned left out of Baie Fa'aroa and motored up the east coast of Ra'iatea, through the gap between it and Ile Taha'a and up the west coast of Ile Taha'a until we found the motu called Ile Tau Tau, where we dropped our anchor in a sandy patch. As both of the islands of Ra'iatea and Taha'a are surrounded by one continuous barrier reef, the water was flat and calm the whole way. We checked out Passe Pai Pai as we went past as we plan to leave by this pass in a day or two.
Our first sight of Bora Bora in the distance, approaching Ile Taha'a We passed this pretty church on the shores of Ile Taha'a.
I snorkelled over the anchor to check it was set and found that only two of the flukes were half-heartedly dug in by a couple of inches into white sand, and the chain was draped over three rather knobbly and easy-to-get-wrapped-around bommies. Not happy with this, we pulled up chain until the catenary was clear of rocks, and then pulled back on the anchor to set it. This time it dug in deep with all three flukes and we were hanging clear of the bommies. This did mean that we only had minimum scope out – 21 metres in 7 metres of depth – but there was virtually no wind and none forecast for overnight, so we were fine.
We set off in the dinghy to find the 'coral garden' that is somewhere around Ile Tau Tau, but couldn't find it. We knew it was between two motus, but chose the wrong two! We did find shallow water though, which meant we had to firstly lift the outboard and paddle, then get out of the dinghy and pull it along. Our disappointment was lightened, however, when we came across a huge stingray which kindly stayed still long enough for a photo shoot.
We passed this stingray in about 2 feet of water. Ok, you've got your photos – I'm off!
Next morning, having ascertained the exact whereabouts of the 'coral garden' we set off again, and this time were not disappointed. It is aptly named, for it is possible to swim in and out of a veritable maze of coral of different shapes and hues, whilst spotting a wonderful array of colourful fish. The coral is not the most colourful or varied that we have seen, but the overall effect of the 'garden' is quite wonderful.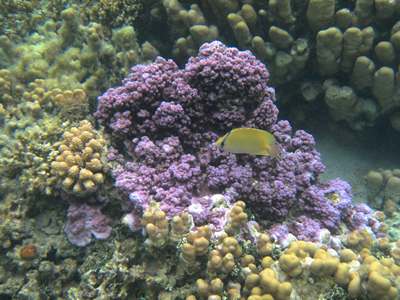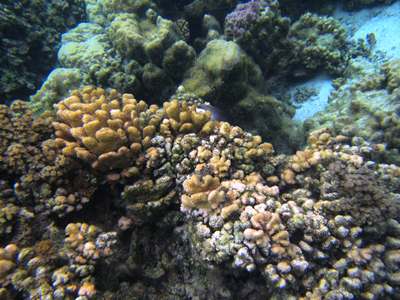 We thought we would stay put another day, but the wind picked up and in view of our minimal rode, we decided to move over into the shelter of Baie Tapuamau. We got there in time to top up our tanks with duty free diesel and sat back to watch the most gorgeous sunset over Bora Bora. It made us impatient to get there, and so we decided to leave Taha'a and head there in the morning.
A beautiful sunset over Bora Bora.
---