Repair work finally underway

Scott-Free's blog
Steve & Chris
Thu 7 Mar 2019 21:23
Thursday 7th March
Work finally began on repairs on 21st February, almost three months after we arrived back at the boat. Alex from Asiatic Marine arrived mob-handed mid-morning, and we breathed a sigh of relief that, at last, something was actually happening.
Alex arrived with three guys to start the work – we were hopeful it would
not take the predicted ten days to complete.
Soon the boat was a hive of activity, locker contents spread all over the place, headlinings down, floorboards up, and cables running everywhere. We had booked a room at Senari Bay Resort on Langkawi for a week as staying on the boat was not really an option, but they were fully booked for tonight, so we would have to unearth the bed in order to get into it – fortunately just for one night!
The saloon Nav area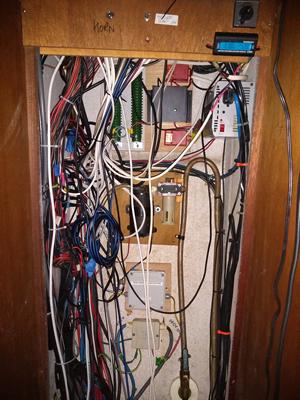 Hanging locker Our bed!
It became apparent after the first couple of days that it was not going to be a fast job. Although they had waited for all the new equipment to arrive before beginning, the radome that arrived had already been registered for warranty so had to be sent back for replacement. The new Navpod which houses the chartplotter on the binnacle was found to be the wrong size and also had to be replaced. While we baked in the mid-30 degree heat, the replacement Navpod was snowbound in a warehouse in the U.S…
Each morning we walked from the hotel to the ferry and came across to the boat. If we hadn't, they would still be working on it in July. Steve worked harder than any of them, keeping a watchful eye on more than one person at a time, stopping them when he wasn't happy with their work, and on several occasions showing them how to do it properly. We provided goodness knows how many tools to enable them to do the work and a load of our own consumables which they clearly had not even thought about needing.
It was a relief to close the boat up at the end of each day and make our way back to our air-conditioned room. After a drink and a shower, we would wander up to the restaurant at the ferry dock for dinner or visit our "chicken lady" at one of the roadside kiosks. The food was good and cheap, which was just as well because we had neither the facilities nor the energy to cook for ourselves.
Steve at the ferry dock restaurant tackling their curried crab
with hands only – no crackers or crabforks here!
Each morning two bags containing breakfast were left on the table outside our room. We were like kids at Christmas eagerly looking in the bags to see what was in there! There was always a carton of juice, some fruit, a piece of cake and two slices of bread, with little pots of marge and jam, plus the main item which was different every day.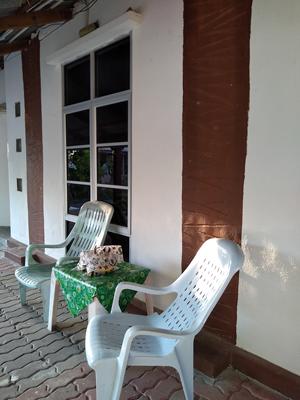 Breakfast bags waiting to be explored! Roti and dhal sauce, with slices of papaya.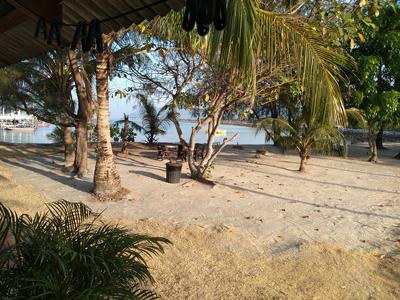 Fishy rice in a banana leaf with melon slices. Our view from the verandah outside our room.
We got to the end of the week we had originally booked, and the boat was nowhere near ready for us to move back onto, so we extended our stay at Senari Bay. We were getting a bit bored with eating in the same places, so Steve explored the cost of a Grab ride into Cenang – 4 ringgit, about 75p. Why hadn't we done this before? Being a tourist beach town, there is plenty of choice for eating, and we enjoyed a change from local food. One evening we went to an Italian restaurant in Matsarat, where we had a delicious meal. Too expensive to be repeated, it was a real treat to have a few hours of a more familiar culture.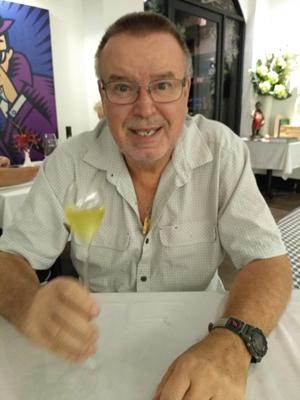 Roast duck in a most delicious orange sauce. Complimentary lemoncello to finish.
Although Alex had said that they would work ten straight days to get the work done, in the end they had some breaks of one or two days when they were held up by lack of parts, so that after a fortnight the work is still not finished.
---