Lautoka - clearing out of Fiji

Scott-Free's blog
Steve & Chris
Mon 21 Sep 2015 20:38
17:36.152S 177:26.421E
Monday 21st September 2015
Distance run: 4 nmiles
We had anchored in Lautoka and were ashore in the Customs office by 1000. Unfortunately, so were several other boat crews, and we joined the end of a long queue. This weather window was the first for some time, and there were many boats leaving. There was only one Customs Officer on duty here as the rest of the team had gone off to Vuda Point Marina to check out nine boats there. Our poor guy was having to deal with the big ships in the port as well as all the yachts, so we waited for half an hour before he made it back to the office and could begin working on the queue.
As time ticked away, we realised we would not be making it to Momi Bay, some 25 nmiles away today. We resigned ourselves to the wait. Things were obviously not going well down at Vuda Point either, as a chap turned up at this office, from Vuda, hoping to be seen sooner than he would be down there! He made a couple of comments about "Only needing a coastal clearance", all of which fell on deaf ears – if he thought he was going to jump this queue full of bored, hot, frustrated yachties, he was very much mistaken! He sensibly judged the best course of action to be to quietly wait his turn, and all was well.
We finally emerged with our clearance shortly after 1300, and decided it was so late now that we might as well walk into town and get some lunch. We had a few Fijian dollars left, so after eating we went into the supermarket and spent them on some wine and goodies for the passage. We saved enough to pay for a taxi back to the port, and mid-afternoon we lifted the anchor and headed out of Lautoka.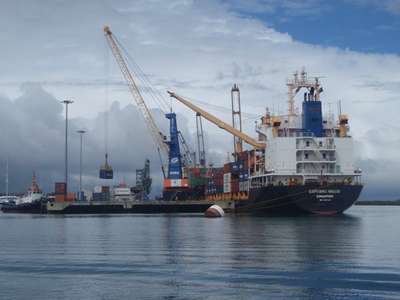 Approaching the port of Lautoka. Cargo ships unloading on the wharf, near where we anchored.
We passed the busy wharf on our way ashore in the dinghy. We were anchored off here – the pile of wood chips now a familiar
sight and smell.
---