Beirut

Scott-Free's blog
Steve & Chris
Sun 13 Jun 2010 00:18
Sunday 13th June 2010
We kept today free of organised tours as we wanted to visit Beirut under our own steam and to take our time exploring it at will. It is a city whose name was familiar to us - we had grown up hearing it on the news, but we never dreamed we would visit one day. Well, one day was now, and we set off to find a taxi to take us the 20 kilometres to the centre of Beirut.
The 'Hope for Peace' monument we passed on the outskirts of the city consisted of old jeeps, tanks and guns stuck inside and sticking out of an enormous lump of concrete. "That's to show we'll never need those again", said the taxi driver. We can only hope he is right.
The Hope for Peace Monument, unveiled in 1995.
Twenty years of peace finds Beirut a busy, modern city, still in the process of rebuilding itself. The streets are packed with modern, big cars, shop windows display fashionable and chic clothes and the people are clearly used to up-to-date technology.
The clocktower in Nejmeh Square, in the centre of the city. A popular place.
The modern city – pleasant gardens... ...space-age architecture in the shopping mall
Busy streets, modern buildings.... ...with an occasional older one.
The Mohammed Al-Amin Mosque, built 2002-7, next door to St George's Cathedral, built late 19th Century and restored after the hostilities.
By early evening we were ready for a bite to eat, and set off on what turned out to be quite a long walk to the Hard Rock Cafe. It was good to sit down and rest the weary legs, have a beer or two and a burger, before exploring the displays in the cafe and visiting the shop, where Steve treated himself to a souvenir t-shirt.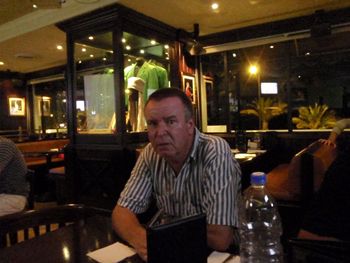 Steve waiting for his beer – that's Elton John's stuff behind him. Mary enjoying a very welcome pint!
Then it was time to find a taxi to take us back through the buzzing city, alive with lights and noise, and back to the peace and quiet of the boat.
---