Bye for now

Scott-Free's blog
Steve & Chris
Tue 12 Dec 2017 20:15
Tuesday 12th December 2017
The last week has been a mixture of work and relaxation as we wind down before heading home for a while. Mornings have been spent working, and after lunch we walk round to the resort and spend a couple of hours cooling off and relaxing at the pool. We are enjoying the swim-up bar (though not the prices!) and sometimes spend the early evening at the beach bar enjoying a Happy Hour cocktail looking out over the water as the sun goes down. Are we really swapping this for the UK in December??!!
The pool at Rebak Island resort. Strawberry daiquiri at the Lepak beach bar.
All preparations for leaving the boat on the hardstand have been completed, including, would you believe, putting antifreeze in the engine and generator. This always makes me smile because, really, what chance is there that temperatures will go that low. However, I am reliably and emphatically informed by the Skipper that it is a necessary precaution to prevent rust forming inside the engine. As our engine is now 25 years old, it probably needs all the protection it can get!
The only food left on board is in tins, which have been inspected to make sure they are sound, and some dried stuff like tea bags which are inside clip lock airtight boxes. Bay leaves have been sprinkled liberally in food lockers and cockroach bait left in all areas of the boat. The stands have been sprayed with ant killer and the spray left in the cockpit for the guardiannage guys to respray as needed. Hull openings have been stuffed with rags. Fingers crossed we don't get infested with anything!!
We have draped shade netting all around the hull and made a tent of it over the decks to protect the gelcoat, teak and deck equipment from the harsh UV rays of the sun.
So now we are ready to go and the boat is in the safe hands of the team at LBSS who will visit her regularly to check all is well.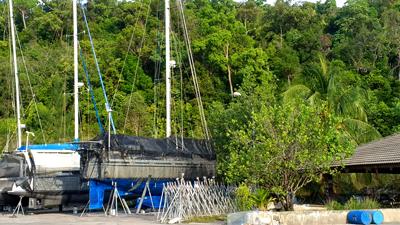 All netted up and ready for a well-earned rest. Our chariot (well ok, ferry) awaits.
Bye for now!
---