Melbourne

Scott-Free's blog
Steve & Chris
Thu 28 Jan 2016 23:04
25-28th January 2016
It was great to meet up with Pam, and after 20 years I still would have recognised her anywhere. We arrived at hers after a long day of walking on and driving from Wilson's Promontory, and after 5 minutes I felt completely at home. With Pam's spare room as our base, we began to explore Melbourne. It is known as the most multicultural city in Australia, and on our first day, which just happened to be Australia Day, we went with Pam to a ceremony in which over a hundred people took an oath of loyalty to Australia as the final step in becoming Australian citizens. A wide range of races and cultures was represented by this group of people, and this is something that is recognised and celebrated. Pam currently organises two such ceremonies every month.
Old friends. The Mayor of Casey, Pam & Councillors at the Citizenship ceremony.
On our second day we took a train into the city to take a look around. We picked up a walking tour leaflet from the Visitor Centre in Federation Square, just across from Flinders Street Station where we emerged after an hour on the train, and set off.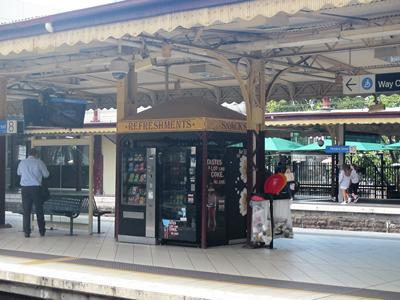 We arrived at Flinders Street Station, built in 1921, although it dates back to 1854 and was the first steam railway station in Australia.
The 1921 Flinders Street Station, a Melbourne landmark and meeting place. Locals meet "under the clocks" just above the front entrance.
We emerged into a busy street with an interesting skyline.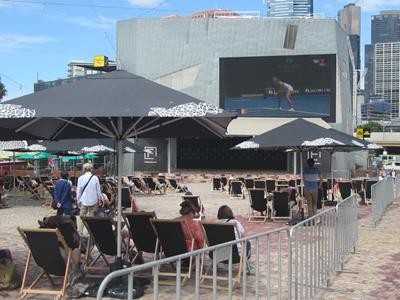 Unusual architecture in Federation Square. A big screen showed the Australian Open live in Fed Square.
We walked along the bank of the River Yarra. Sculpture by the river.
A couple of tennis balls entertained visitors to the tennis village.
Busy narrow lanes lined with coffee shops.
Block Arcade, a 19th century shopping arcade with mosaic tile floors, carved stone and glass canopy – and tea rooms.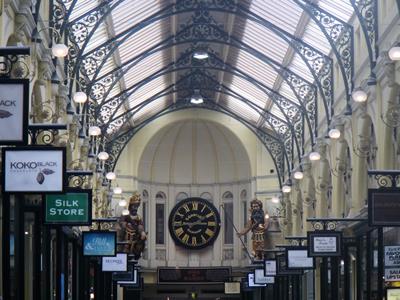 Across the street, Royal Arcade, built in 1869, and now housing specialist shops. Gog and Magog, either side of the clock, strike the hour.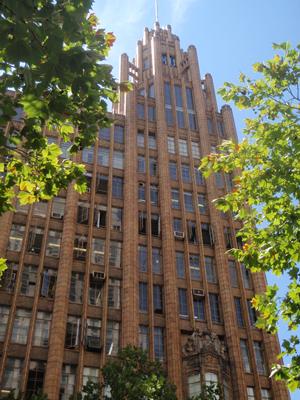 Inside the Manchester Unity building. And outside.
Old and modern.
Melbourne has a different feel to Sydney – not better, or worse, just different. We enjoyed our first little foray, and look forward to further exploration after our Tassie trip.
On our last day, Pam's daughter Morgan took me to get my hair cut while Pam went to work until lunchtime, and then the plan was to drive out to the hills when Pam got home. Unfortunately the weather had other ideas, and we had thunderstorms all afternoon, so instead we stayed home and watched the tennis. We wouldn't let the weather spoil our evening though, as we had tickets for Mrs Brown's Boys at the Melbourne Convention Centre. We had a pre-show meal at The Boatbuilders Yard restaurant on South Wharf, and then went into the show. It was great fun to see it live, having enjoyed the television series, and we had a good laugh.
Inside the Convention centre. The cast of "Good Mourning, Mrs Brown" take a bow.
Back at Pam's, we re-packed our bags and got ready for an early start in the morning when we head to the airport to fly to Hobart, Tasmania.
---