Huge pipes!

Scott-Free's blog
Steve & Chris
Thu 18 Feb 2016 22:58
Thursday 18th February 2016
After our walk at the lake we set off again south through the Central Highlands towards Kingston, tonight's stop. As we drove along we first noticed a huge pipeline running along the roadside. Next we came across two tall pipe towers, and became intrigued to find out more. It was obvious they were part of a hydro-electric power system, and turned off the main road to follow the pipes further. Soon we came across signage confirming they were part of the Derwent hydro-electric scheme feeding water to the Tarraleah Power Station, 290 metres below.
Derwent Hydropower scheme, begun in 1934 Position of Tarraleah power station.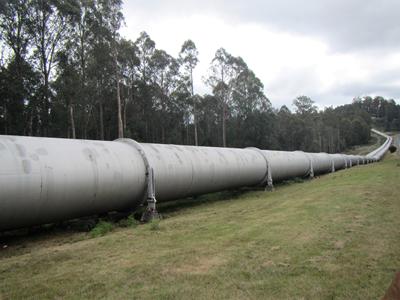 This huge steel pipe ran alongside the road for miles. Two pipes rose high in the air.
The two tall towers are surge towers, built over 70 years ago, to provide protection to Tarraleah by preventing pressure overload in the penstocks, the pipes that take the water down the hill to the power station.
Penstocks take the water down the hill to the power station. Penstocks feeding Tungatinah power station can be seen on the opposite hillside.
Water pressure is essential in the penstocks as they drive the turbines in the power station, but too much pressure could be disastrous. The towers act as relief valves or shock absorbers on occasions such as when inlet valves to turbines are closed producing high-pressure spike s.
Facts & figures
It was quite something to behold, looking down the hillside, particularly when you consider that these systems were designed and built in the 1930's. How forward thinking then to harness the energy provided by nature, and how amazingly hard it must have been to build the system with the technologies available at the time.
Marking the achievements of those who designed and built the system.
---