Fiesta

Scott-Free's blog
Steve & Chris
Sun 10 Aug 2008 21:47
At Duquesa we moored alongside a 45' motor boat called 'Plan B'. (Plan A was, apparently, to put the money in the Bank!) It was the home of Brian and Lyn who had been living aboard for the past three years, most of which had been spent at Duquesa. They liked it and stayed. A danger we are only too well aware of! They were very friendly and couldn't have been more helpful with their local knowledge. We invited them on board for a drink and they asked did we want to join them as they went into town to see the Fiesta procession.
The Simpsons were not quite what we expected!
There were also traditional floats and costumes though,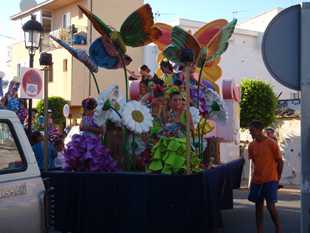 and some of the floats were a bit tall for the electricity cables. They only just remembered in time and this handy 'cable lifter' appeared from the back of the float! Health and Safety? Que?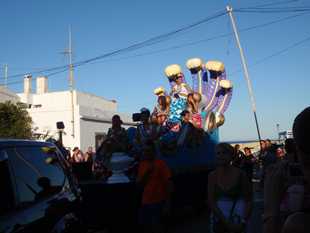 This was followed by a meal at the beach restaurant - a very nice evening altogether. Duquesa caters quite a lot for the English tourist, but it had a charm about it that was completely absent in places like Vilamoura.
---