Anelghowhat, Aneityum, Vanuatu

Scott-Free's blog
Steve & Chris
Sat 26 Sep 2015 18:11
20:14.37S 169:46.703E
Saturday 26th September 2015
Distance run day 4: 102 nmiles
Total distance run: 476 nmiles
Around mid-afternoon yesterday the wind began to pick up again, though still very light and typically on the nose, so we continued to motor through the night. I had a very disturbed night as my stomach upset still hadn't settled down, and just as I was dropping off to sleep I'd get cramps and have to get up for the loo. So that was my excuse when I fell asleep on watch. I awoke with a start sometime after 0600 to find that the sky had lightened ready for sunrise.
Looking out to check all was well, I got a shock when I discovered a huge lump of land off the starboard bow! Feeling a bit washed out and fed up after a disturbed night, the sight of land really raised my spirits. It was time to get the flags up – the Vanuatu national flag with the yellow Quarantine flag below – flying from the starboard signal halyard.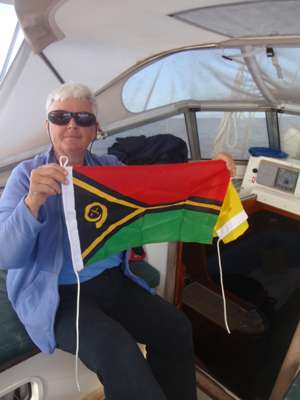 I looked out and there was Aneityum. Time to raise the Vanuatu courtesy flag and the Q flag.
Under a blue sky, with the sun shining and a very gentle breeze, we motor-sailed along the south coast of Aneityum, around the reef that surrounds Mystery Island and into Anelghowhat Bay, where we dropped the anchor in clear water. This is a stunning bay, surrounded on two sides by breaking reefs and on the other two by land.
We passed a rugged southern coastline... and low-lying Inyeug Island, renamed 'Mystery Island' for the cruise ships.
We put the clocks back an hour, in line with local time, and went to bed.
---