One last walkabout...

Scott-Free's blog
Steve & Chris
Sat 16 Jan 2016 22:26
Saturday 16th January 2016
The last few days have been spent getting the boat ready for sea again, provisioning, returning the hire car and various other mundane things. We spent a lovely evening with Sue & Bob on Mawari, catching up on news, and were delighted with our gift of a calendar containing some of Sue's wonderful wildlife shots. It is now hanging in pride of place in the saloon.
Thanks Sue!
Now we are pretty much ready to go, and the weather looks good for a departure tomorrow, so we have given ourselves one last trip into the city. Brian and Sue from Darramy suggested we took the afternoon 'free' tour, and as we have done most of our exploring without a guide we thought it would be a good idea to see if they would show us places we had missed. So, together with Bob and Sue, we set off into the city for a spot of lunch before meeting up with Brian and Sue outside the Town Hall at 1400.
It was a beautiful afternoon, and we enjoyed the three-hour walk through the city. The guide did indeed take us to sights we had already visited, but he also took us through different streets, and from somewhere quite new, we would suddenly pop out somewhere that we knew well. He was well-informed and interesting to listen to, so his tip at the end was well-deserved.
We had eaten lunch in the nearby Queen Victoria Building, and as luck would have it, that was the first place the guide took us to!
The Great Australian Clock, depicting scenes from Australian history.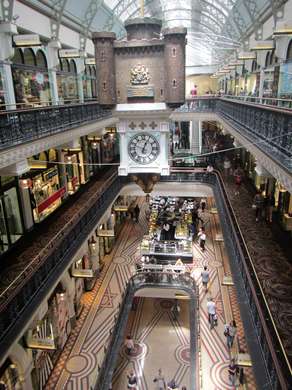 The Royal Clock, which opens on the hour to show scenes of English Royal history.
Stained glass windows inside the QVB... ...and domed ceiling.
We went inside the grounds of the Sydney Hospital which is still a working hospital after 200 years on the same site.
Inside the grounds of Sydney Hospital on Macquarrie Street.
Sue hoping for some good luck!
One of the places we had not previously visited was Australia Square, where we came across this chap reading his newspaper. Both of us had to look twice to realise he was actually a sculpture! Apparently his creator, John Seward Johnson II, has similarly realistic and everyday sculptures in cities across the world.
Very realistic!
We finished our tour at The Rocks, looking out over the harbour bridge and the opera house, and by then it really was time for a beer. So we headed back to the Ship Inn at Circular Quay, where we stopped for a pint before bidding Brian and Sue goodbye. Then with Sue and Bob we headed off to pick our spot on the grass for the Symphony in the Domain free concert. The first half was rather slow and involved a lot of solo violin playing, which didn't quite do it for me, but after the interval the pace picked up and flowed seamlessly into a fantastic finale with a fireworks display set to the music. Fantastic! What a wonderful way to say goodbye to Sydney.
Symphony in the Domain 2016.
---