O'Reilly's Rainforest Retreat

Scott-Free's blog
Steve & Chris
Tue 10 Jan 2017 22:37
Tuesday 10th January 2017
We arrived at O'Reilly's Rainforest Retreat mid-afternoon, just in time for their complimentary afternoon tea and cake, accompanied by a welcome talk from the duty manager. I had not realised there was so much going on here that you could either join in with (and pay for, of course) or not as the fancy took you. We enjoyed hearing a potted history of O'Reilly's, complete with occasional dig at the English and frequent dig at themselves – well, they wouldn't be Irish if they didn't, would they?
Apparently the five O'Reilly brothers and three cousins never set out to be in the hotel business, they started out as dairy farmers. Now, given that the land they bought, admittedly at a snip, was more than 900 metres above sea level, the dairy business never really took off. Around the same time, though, the land surrounding them was made a National Park, attracting nature-lovers and walkers, many of whom came knocking looking for food and a bed for the night. And that's how it all started. In 2016 they celebrated 90 years of welcoming people to the Green Mountains.
And we were very happy to be here. Our room was lovely – spacious, comfortable and with a balcony overlooking the mountains. After the talk we retired there to relax and enjoy the view. Crimson rosellas joined us on the balcony in the hope of being fed, and when the nuts ran out walked straight into the room to help themselves to more. Cheeky!
Lovely room. Steve feeding nuts to our visitors.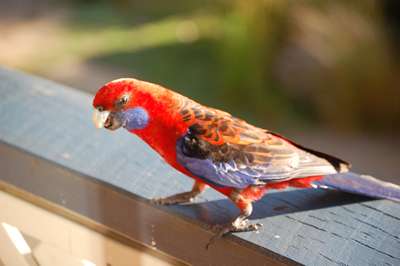 Crimson rosellas – very pushy birds! Not at all threatened by humans, they come into the room to help themselves if the door is left open!
Sunset was due at 6.40 p.m. and the balcony of the bar was recommended as a good viewing spot, so that's where we positioned ourselves at the start of Happy Hour. Unfortunately, the clouds and rain closed in, and although the rain passed us by, the visibility was not good as the sun set behind the ridge.
Rain and mist reduce visibility as sunset approaches. The sun setting behind the mountains in a broody sky.
We moved inside where we enjoyed a fish and chip supper before wandering back to our room and deciding on our plans for the next day. There would be a guided bird walk in the morning at 6.45 a.m., which Steve planned to join. I said I would see how I felt in the morning...
---