Fish Friday

Scott-Free's blog
Steve & Chris
Sat 4 May 2013 00:54
02:13.795S 95:37.219W
Friday 3rd May 2013
Distance run so far: 145 nmiles
Distance run Day 2: 151 nmiles
Total distance run: 296 nmiles
The wind yesterday made for a good distance covered, but it also made for rather unpleasant seas. Happily, it has dropped a bit today and the seas have flattened out somewhat, so we have had a much more comfortable and pleasant day. More squid had joined us on deck overnight, and Steve decided to use them as bait for fishing and put out the line. (Marco - no need to visit Foodland, they were delivered fresh to the boat!)
Firstly we were passed by a cargo ship - rather closer than we would like.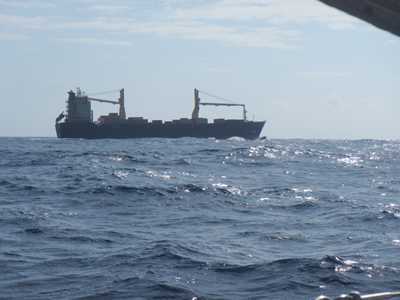 Then the day was made more pleasant when the reel started clicking late morning and we caught a beautiful dorado. As he fought on the line we saw flashes of yellow, blue and green. He put up quite a fight, which caused some activity and excitement on the aft deck, but we got him safely on board with a bit of teamwork. Steve was excellent at reeling him in, but my skills with the gaff hook need a bit of practice! Sadly, the beautiful colours fade immediately after the fish dies, so the pictures don't do it justice.
Finally gaffed and on board, still struggling. Gotcha!
Steve holds out the beautiful blue dorsal fin. And then sets about the serious business of filleting.
Three hours from sea to plate - and thence stomach. Yum!
There was enough fish to put eight fillets in the freezer and some in the fridge, so we won't be going hungry. The rest of the day has passed uneventfully and we are now getting ready to settle down to night watches. Evening all.
---