Foster

Scott-Free's blog
Steve & Chris
Sun 24 Jan 2016 22:07
Sunday 24th January 2016
We were up and out before 0700 and down at the Bombala River five minutes later watching out for platypus. It was a lovely morning, the water was flat calm, and the reflections were beautiful. We caught a glimpse of one platypus, obviously a shy one as it did not come close enough to see well, and after a while our growling stomachs reminded us it was time for breakfast.
The reflections in the water were very clear this morning.
We were back on the road by 0945, following the Monaro Highway south until we reached a 'T' junction at Cann River where it met the Princes Highway. We had crossed the border from New South Wales into Victoria about halfway down, and were now in our third Australian state (Canberra being in the Australian Capital Territory). At Cann River we stopped for coffee and the loo, and bought a sandwich for lunch later, before hanging a right and heading west. At this point we had no idea where we would stop for the night, preferring to drive until we felt like stopping.
At lunchtime we stopped at Lakes Entrance, which is not surprisingly the name of the town at the entrance to lakes on the south coast of Victoria. It was very busy with holidaymakers, so we drove a little out of the centre, and ate our lunch at the side of the lake, watching the black swans.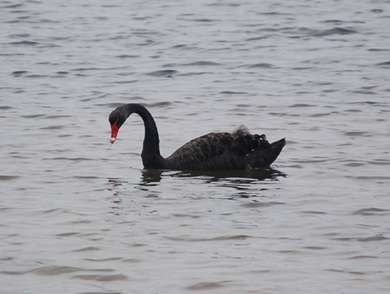 The lake seemed to be full of black swans.
A quick look at the map showed that we could make the town of Foster, 200 km away, this afternoon, and then it would be a short drive to Wilson's Promontory tomorrow. So we continued along the Princes Highway until we reached Sale where we turned off on the A440 to Foster. We checked into the Wilson's Promontory Motel – interesting choice of name as it is not on Wilson's Promontory, in fact it is 30 km away. It was a fairly new motel and the room was clean, light and spacious.
The motel room was light and airy and seemed quite new.
We went for a walk into the bustling town of Foster to find a supermarket. We planned to go walking on Wilson's Prom the next day and would need a picnic lunch. We also had a microwave in the motel room and planned to save a few dollars by eating in.
The clocktower in the centre of Foster.
We found an IGA and grabbed their last cooked chicken and some microwaveable rice for dinner, plus some breakfast and lunch groceries for tomorrow. Back at the motel, we looked at the map and made some decisions about the next few days. We had thought to visit Phillip Island to see the little penguins, but we didn't want to rush as there would be plenty of time on the way back, and we wanted some time to see Pam before we flew off to Tassie. So we contacted her to ask if it would be too short notice to arrive at hers tomorrow evening, and when she said, "Anytime", that clinched the deal. We would spend the day at Wilson's Prom tomorrow, and then drive to Pam's. So looking forward to seeing her again after such a long time.
---