Puerto Ayora, Santa Cruz

Scott-Free's blog
Steve & Chris
Wed 17 Apr 2013 02:05
0:44.961N 90:18.584W
Tuesday 16th April 2013
Distance run: 47 nmiles
We arrived in Puerto Ayora on the island of Santa Cruz mid-afternoon, having managed to sail for just two of the eight hours the journey took. There was little wind and the seas were calm for most of the passage, but the swell began to build after we passed Santa Fe, a small uninhabited island that lay right in our path.
Santa Fe is a green but uninhabited island. Puerta Ayora, or Academy Bay is a very busy anchorage.
When we entered the bay, named by the British as Aacademy Bay, the anchored boats were rocking back and forth and some were rolling from side to side in the swell. We had been warned this was an uncomfortable anchorage, and with the swell running it was certainly going to be lively! We had unearthed our kedge anchor line from the aft locker on the way, and it looked like we would be needing it. The boats that didn't have a stern anchor out were rolling quite spectacularly.
We found a spot that looked slightly less lively and dropped the bow anchor. Then it was time for an 'anchoring beer', a tradition learnt from Rod & Mary, before lowering the rib and taking the kedge anchor out to our stern. Once the slack was pulled up on the kedge, we were sitting nicely with our bow into the swell and it wasn't at all uncomfortable. Steve suggested that he deserved another 'anchoring beer' as two anchors equals two beers! I couldn't really argue with that!
We called our agent's rep and she arrived late afternoon with the Port Captain to collect our paperwork and so that he could ask us important questions, like how many fire extinguishers and children do we have. Irene is a lovely lady who speaks a few words of English and between us we managed to understand each other and get the formalities done with a few laughs thrown in.
The anchorage is quite manic, with local tour boats arriving and leaving constantly, ribs ferrying passengers from the cruise boats to and from shore, and water taxis plying their trade, and all of them passing us at close quarters and at speed. We joined Rod & Mary for sundowners in the evening and agreed that we didn't want to stay here any longer than necessary!
So today we took a water taxi ashore and explored the town and the Charles Darwin Research Centre. We passed the fishermen's market where fresh fish were being prepared for sale, and were amused to see the seals, pelicans and other assorted birds waiting around for the offcuts. At least there was minimal mess and waste as the animals did the cleaning up!
Puerto Ayora is a modern town. Waiting for the offcuts at the fishermen's market.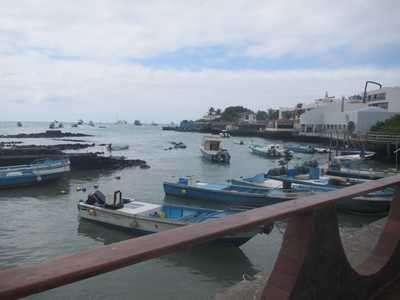 Marine iguanas sunning themselves on the pavement. The view across the Bay from the fishermen's dock.
At the Charles Darwin Research Centre we followed the trail that led to land iguanas which are unique to Galapagos, to the tortoise nursery and more giant tortoises. Unfortunately, we were not able to see 'Lonesome George' the last remaining Pinta tortoise, as he sadly is no longer remaining. He died last June, and all we were able to see was where he used to live and a plaque to his memory.
At the Charles Darwin Research Centre on Santa Cruz. RIP Lonesome George
Baby tortoises being reared in captivity to ensure their survival. Yum, yum, this somewhat rotten vegetation is delicious!
Land iguana. Some of the tortoises had orange-coloured heads.
On the way back through town we made enquiries with a couple of tour operators about a tour to North Seymour, an island at the north of Santa Cruz. This is recommended as a must-do whilst on this island, and so we booked ourselves onto a tour tomorrow. By then we were all ready for lunch and so we followed directions given by the tour office to a street full of little cafes doing lunch and enjoyed a two course lunch with juice for $4 each.
We spent the rest of the afternoon tracking down the two chandleries in town and then visiting the supermarket to get some bread. Then back to the boats, a little footsore, to get stuff ready for the trip tomorrow.
---