Settling in

Scott-Free's blog
Steve & Chris
Tue 16 Jun 2015 09:38
Tuesday 16th June 2015
Well a week has flashed by since we arrived in Savusavu, and we are feeling rested after the passage and beginning to make plans for cruising the islands. At present there are strong wind warnings out for the whole of Fijian waters, and so we are staying put for the moment. Here on our buoy we are very sheltered and it is hard to believe that a local fishing charter boat turned back yesterday shortly after leaving the bay because it was too lumpy out there.
The bus station and market, from the mooring. The Copra Shed marina, from the mooring.
Looking over the starboard quarter, townside. Looking aft, out into Savusavu Bay.
Mangroves on the small island to port. The old girl, taken from the marina, with Beez Neez in foreground.
The town is quite compact, stretched out along a main street that follows the contours of the water's edge. It has a bus station, a market and a variety of shops, banks, two supermarkets, two petrol stations and many restaurants. The people are happy, smiling and welcoming and always helpful. We settled very quickly. Eating out is very cheap, and so we have been trying out a variety of restaurants. In the Chinese, we had a main and rice each, a soft drink and a beer, and it cost $21, around £7.
Savusavu main street, looking one way... ...and the other.
The bus station, with moored yachts beyond. Towards the bus station from the marina end of town.
Skipper outside the Copra Shed marina building. The marina garden.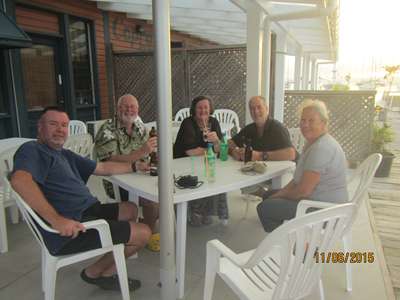 Sundowners at the yacht club with Rod & Mary, Pepe & Bear.
---