Nadi

Scott-Free's blog
Steve & Chris
Fri 11 Sep 2015 21:18
Friday 11th September 2015
We followed Jean and Alan to the dinghy dock and they showed us where the marina office and facilities were, and then we hopped on a yellow bus for the 20-minute ride into Nadi. The yellow bus service costs $1 (30p), runs from the port to the market place in Nadi town, and one comes along every 10-15 minutes. Excellent. We got off the bus at the bottom of the main street and wandered along looking at the shops which are mainly clothing stores geared towards tourists. Today we wanted to find the supermarkets and start stocking up on non-perishables, so we declined the many invitations to step inside the clothing/souvenir stores as we walked by. It was interesting to be stopped and told by Fijians in the main street not to go into these shops as they are all owned by Chinese or Indians, but to go to the Fijian market along the road. We wandered all the way to the other end of the main street, where we found ourselves at the enormous Sri Siva Subramaniya Swamy Hindu Temple we had visited on the land trip.
A yellow bus – some are half this size, and much older! A small Hindu temple on the way into Nadi.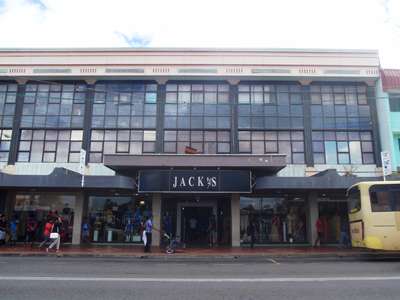 Jack's has branches all over Fiji. The Indo-Fijian presence is very strong in Nadi.
With a bit of Irish maybe? Another chain store we have seen in several towns.
Traffic seems to be quite a problem in town.
Street furniture is very bright – paint left over from the Temple? Except this sign – very to the point.
Jean found a hairdresser, which reminded me I needed a trim, and while the men were waiting for us, Steve got one too. We stopped for lunch at a small place opposite the market, where the food was good and very cheap, and then we checked out the supermarkets, of which there were several. Loaded up with shopping, we decided to give the bus a miss and got a taxi back to Denarau.
Steve and Alan settle the bill for lunch at Hungs Restaurant.
We loaded the shopping into the dinghy and headed back out to the boat to unpack and store, then got the laundry, shower bags, rubbish and gas bottle ready and headed back in to the marina. Rubbish and gas bottle sorted, and with the washing in the machines, we had a lovely, long, hot, free shower – bliss! – and then went to the Rhum Ba at Port Denarau Yacht Club for Happy Hour.
This up-market yacht club has a bar shaped like a yacht, with masts. A very pleasant spot to wind down after a busy day.
---