Boxing Day - start of the Sydney-Hobart race

Scott-Free's blog
Steve & Chris
Sat 26 Dec 2015 22:50
Saturday 26th December 2015
No laying around in bed today – we were too excited about taking the boat round into the main harbour for the start of the Sydney to Hobart yacht race. Lots of people go out in their boats to see this yearly spectacle, and so we were looking forward to a hectic but exciting day. The race was due to start at 1 p.m. and we needed to time our departure from the marina to coincide with the opening of the Spit bridge and to allow us time to find a spot to anchor.
We managed to ready the boat in record time and were safely anchored in a good spot with time to sit back and watch it get busier and busier. Many boats were driving up and down rather than anchor, but we preferred to sit back and enjoy, rather than spend all our time looking at where we were going and avoiding other boats. There were all types of craft out on the water, and they had to keep out of the exclusion zone, inside which the competing yachts were getting themselves ready for the start.
Many boats were waiting to go through the bridge and out of Middle Harbour. This Start boat flashed past, obviously in a hurry!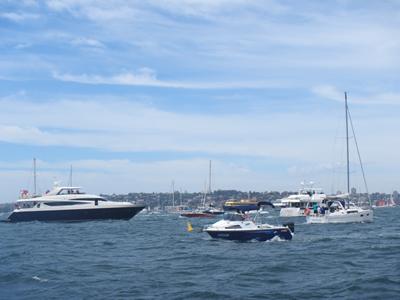 Big and small boats.
Paddle steamer. Kayak – rather her than me!
Steamboats and sailboats.
A race boat trying out its storm jib. Let's hope they don't need it.
And then it was time for the Start. Unfortunately there was a problem with the Start boat, and there was no audible signal that the race had started, but there was no mistaking it, the bigger boats were off!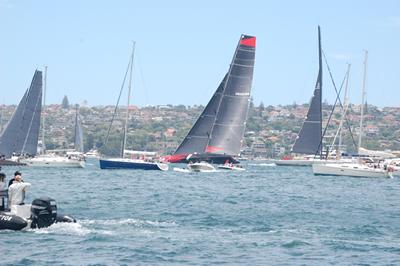 It was an exciting start, and well worth taking the boat round for. The weather had gradually deteriorated over the course of the day, and with a forecast of strong southerly/south-westerly winds later, we wished them all safe sailing. As all the excitement died down, we lifted the anchor and headed back round into Middle Harbour for the bridge opening.
A workboat begins clearing up by collecting the yellow race marker buoys.
By late afternoon we were back on our mooring. It had been an exciting spectacle and one we were lucky to have experienced from the comfort of our own home. Wonderful!
---