Rainbows and showers

Scott-Free's blog
Steve & Chris
Sun 26 Dec 2010 13:52
16:29.01N 35:43.08W
Sunday 26th December 2010
Distance run in 24 hours: 115
Total distance run: 638
Distance left: 1405
We seem to have settled into a sailing pattern of broad reaching overnight, gaining more North than required, and then running downwind during the day more or less on the rhumb line but with a little South in to counteract the North. Yesterday we were pleased to be able to continue running downwind well into the night, with a wind shift at around 0200 making a sail change necessary at the change of watch. We impressed ourselves by completing the sail change - involving furling away the genoa, lowering the port pole and securing it on deck, then re-setting the genoa and furling away the yankee - for the first time in the dark, in 20 minutes. It doesn't sound much, but the pole is around 4-5 metres long, with a 4-5-inch diameter and is no lightweight, and it requires both of us to handle it into position.
The genoa pole in temporary stowed position, reaching from mast to bow.
Fortunately, because the wind mainly comes from the North East we are able to leave the starboard pole in position and just furl away the yankee, which saves a lot of work.
Light winds overnight meant that the distance run yesterday was less than we would have liked. It did mean a quiet night for the off-watch though, until the early hours when large black clouds appeared, bringing with them flukey winds and rain. This kept the on-watch on their toes as the sails had to be trimmed more often than thus far in order to be prepared for the gusts and indeed to make the most of them! We were rewarded with several rainbows, but could see no pots of gold.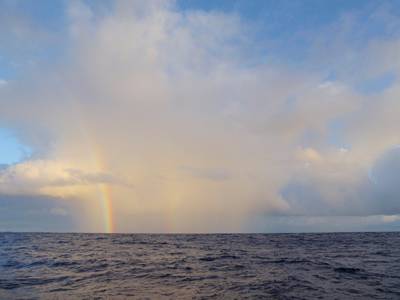 This cloud brought a rainbow and kindly passed us by without raining on us. We could monitor its progress on the radar.
We also had some rain but not enough to make us think we were sailing in blighty!
---