Solomons

Scott-Free's blog
Steve & Chris
Thu 3 Nov 2011 22:30
38:20.13N 76:27.59W
Thursday 3rd November 2011
Distance run: 49 nmiles
We left with the light on Tuesday morning and after motoring into the wind to get out of the mouth of Miles River and Eastern Bay, we set the sails and with around 15 knots of wind over the port quarter made excellent time towards Solomons on the western shore. As we changed course to make our approach, the wind moved behind us and we unfurled the yankee to join the genoa and ran under double headsails into the mouth of the Patuxent River. All along the shore the leaves are changing colour as autumn arrives, making the views even more beautiful. We dropped the anchor just before 1600 in Back Creek at Solomons.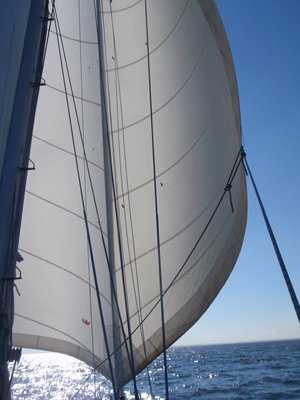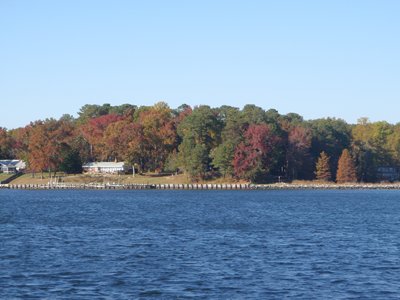 Running downwind under double headsails The trees with their autumn leaves are beautiful
On Wednesday we took the rib ashore and went for a stroll into Solomons Island. The sun was shining and it was a glorious day, and it felt like being at the seaside. We stopped at the Marine Museum and enjoyed an hour or two wandering around their exhibits. A very knowledgeable lady explained the difference between skates and rays (the fish kind!) and as we watched them swimming around the touch pool we couldn't help wishing the grandchildren were there with us.
We were shown around the disused Drum Point lighthouse which has been repaired and is maintained by a lady who was born in it. It was very comfortable inside and usually housed not just the lighthouse man but also his family. The only problem I could see was the toilet, which was outside! It was on the balcony that ran all around the outside of the building, overhanging the edge so that no flushing was necessary. Imagine sitting out there in gale force winds – at least you wouldn't have to wait for anyone to finish reading the paper!
The outside privy The restored Drum Point lighthouse
Today we did some boat jobs and then met up with Andrew and Digna, the OCC (Ocean Cruising Club) port officers for Solomons, who had very kindly invited us to supper and to make use of their facilities. Andrew drove us to the local supermarket to stock up on groceries, and then, back at their condo, Digna made supper while we used their laundry and shower! We had a very enjoyable evening exchanging sailing stories. Then back to the boat and bed, ready for an early start tomorrow.
---