Swimming with manta rays

Scott-Free's blog
Steve & Chris
Sat 8 Jun 2013 22:32
Saturday 8th June 2013
The sun continued to shine and the sea became flat and calm, so we took advantage and stayed a few more days. It was so nice to be able to swim and snorkel, and Steve now wants a new fish-spotting book as he has seen many that are not described in the ones we have.
Yesterday morning we were enjoying an early morning cuppa on deck, when Steve spotted some manta ray fins breaking the surface of the water. He hopped into the rib and went over to them, and spent the next hour enthralled by their antics as he swam amongst them. It was, he said, an unbelievable experience as they glided gracefully along beside him, and one that will go down as a highlight of the trip.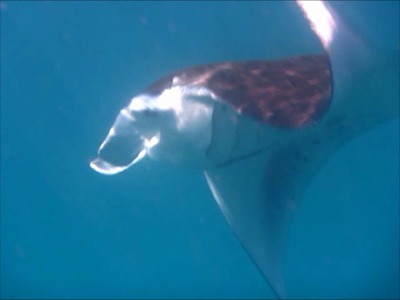 The usually outstretched "horns" are tucked in to form a funnel whilst
they are 'vacuuming' up the plankton etc.
---