South Island - Week 2

Scott-Free's blog
Steve & Chris
Sat 15 Feb 2014 09:45
Monday 10th February

Set off for the 300km drive south-west to Greymouth on the west coast. Along the way we stopped to see the Pancake rocks at Punakaiki. These limestone rocks have been eroded in such a way as to look like layers of pancakes. Had a brief look at Greymouth before checking into a local campsite where we made use of their spa bath to ease the aches from yesterday's exertions.




Pancake rocks

Tuesday 11th February

Off again for the 200 km drive to Fox Glacier, stopping for a look at Hokitika, a pleasant little town half an hour along the coast. We stopped for a late breakfast at the Cafe de Paris where, according to the Lonely Planet, they do excellent eggs Benedict. Steve gave it a try but felt the chef must have been having a bad day as he managed to cook the eggs so that the yolks were hard and the whites runny- quite a skill!

More successful was the visit to the National Kiwi Centre where we finally got to see a real live kiwi. Steve also had a go at feeding giant long-finned eels.

We arrived at Fox Glacier Township and checked into a lodge room. This was a great setup, as all the rooms had an outside door as well as an inside one which led to the loos, showers, kitchen and communal area. No need to go outside in the middle of the night for a pee!




Eggs Benedict at Cafe de Paris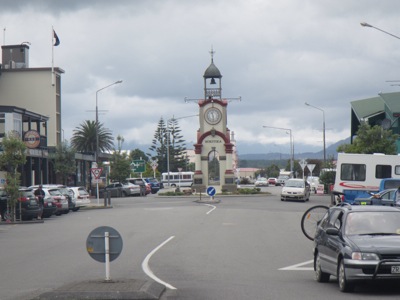 Clock tower in Hokitika

Wednesday 12th February

Went into town to book Steve's helicopter trip onto the glacier for tomorrow, then walked to the glacier's terminal face. After a bit of a struggle up a very uphill path, we were rewarded with a spectacular view of the glacier.

After lunch we drove to Lake Mathieson which was formed from the melting ice as the glacier receded, and enjoyed a walk around its perimeter. The lake's dark water, a result of tannins, make it very reflective, and it is renowned for its beautiful reflections of Mount Cook. We saw magnificent reflections of.....clouds. Oh well, you can't win them all, and the lake was beautiful, clouds and all.




Fox glacier terminal end




Clouds reflected in Lake Mathieson

Thursday 13th February

Today started not so well. I had been awake much of the night with a bad toothache. It had been grumbling for a day or two and I was ignoring it and hoping it would go away. But it was getting worse, so an early visit to Reception resulted in an appointment to see the nurse at the medical centre. No dentist or doctor in town. No matter, Mary, the nurse was lovely, and she provided interesting conversation as well as antibiotics and strong painkillers. I was pleased I had decided to opt out of the glacier trip - my bad tooth was making me very grumpy.

Steve had a much better day - so over to him...
I've always wanted to fly in a helicopter and had a flight onto the Athabasca Glacier cancelled when I used to go the British Columbia for work (that seems ages ago!). So jumped at the chance to do both on the Fox Glacier. We decided on the 11:50 tour for a lie in and the weather looked better. A lucky decision as the morning and afternoon tours were cancelled as the cloud too low for the helicopter to operate! Arrived all suitably kitted out at the appropriate time, introduced to my guide and then bussed out to the heliport. There we were given our boots and socks (which were warm...) followed by a safety briefing on boarding and disembarking. We were then weighed in groups on an enormous scales/force plate to ensure the chopper could take off safely. I was allocated to group one and once weighed we were straight into the chopper for the first flight. There was low cloud but once above them the views of the glacier were fantastic. I was torn between enjoying the scenery and looking at the pilot's instruments etc.

We were quickly high up on the glacier, landed and soon kneeling on the ground so the helo could take off. Apparently you have to do that otherwise the down-draught would blow you over! Were then given poles and crampons and off up the glacier. The glacier is moving at 5 metres a day - yep that's not a typo!! - but slower in other parts. This gives rise to plenty of ice caves and crevices as something has to give with all these forces. This makes for a very interesting hike as the vista is always changing. Quite a challenge for the guides as within about 5 days it has changed completely and so they have a blank canvas on where they go. So much so that Tom my guide used to go ahead cutting steps in the ice to scout a route and then call the group forward. The two hours on the ice flew by and before I knew it the helo was being called in for the return flight.



Friday 14th February

Toothache getting better, slept ok last night.

Absolutely breathtaking scenery as we drove down the west coast and through the Haast Pass to Wanaka. We took a 50km detour off the route to visit Jackson Bay, and were well-rewarded with delicious fish and chips at the Cray Pot, a restaurant in a caravan beside the beach. I had rig, a fish which tasted exactly like rock ( or huss). We had to drive with care in case penguins were crossing the road. No, not a joke, and there was even a road sign to tell us. Apparently this is their moulting season and they cross the road to get to the bush!

We also stopped for a short walk to see the Thunder Creek Falls, though we didn't stay long because of the sand flies. We arrived in Wanaka on the south shore of the lake late afternoon and checked into the campervanpark park. Here we had a room in a shared house, a very comfortable setup.


Beware of penguins!


Restaurant in a caravan.


Excellent fish and chips

Saturday 15th February

A very lazy start to the day and a leisurely breakfast, then a short drive into town and a wander along the lakeside. Lunch on the grass beside the beach with absolutely stunning views across the lake to the hills beyond. Then back to the house to chill out and organise the trips to Milford and Doubtful Sounds. Toothache gone.


Sent from my iPad
---