Alice Springs (1)

Scott-Free's blog
Steve & Chris
Thu 15 Dec 2016 23:03
Thursday 15th December 2016
With the car safely dropped off, we had a few hours to spare, and Steve had read about the Alice Springs Reptile Centre which was not too far to walk, so off we went. We were glad it was only a short walk away, because the heat was quite intense.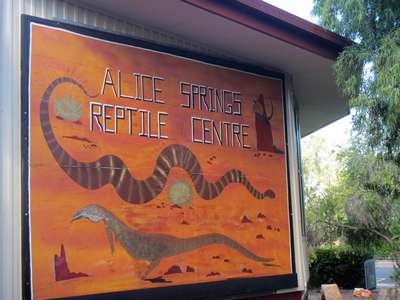 Just a small place, tucked away on a street corner, but with an interesting collection of reptiles. Our first Thorny Devil.
Terry the saltwater crocodile. I was glad the bars were between us, but I couldn't help feeling sorry for him in his boring little waterhole.
Australia's largest lizard – a Perentie. A desert sand goanna.
Steve's favourite (and my not-so-favourite) part of the visit was the hands-on talk about several of the reptiles. I was glad to hold the camera, and only the camera!
How can you look so pleased about having a python round your neck?!
In his element! Er, close enough, thanks!
After the Reptile House we crossed the road to the Royal Flying Doctor Museum which is in its original Radio Station House, and as luck would have it were just in time for the final presentation of the day. Through a 3-d hologram of John Flynn whose dream of such a medical service became a reality in 1928, we learnt about the very beginnings of the Flying Doctor service when air travel was still in its infancy, and the first flight was in a single-engine, cloth-covered bi-plane. It was also interesting to learn of its development through to the services it provides to people who live in remote parts of the country today.
The Royal Flying Doctor Radio Station House Museum. An RFDS aircraft in service from 1952-70.
During the 20-minute walk back to the hotel we decided that once we got there we were not going out again, so we stopped by the BP station (the only shop on the way!) and bought a couple of microwave curries for dinner, which turned out to be much nicer than anticipated. Overnight bags had to be packed and our main luggage taken to Reception before 8 p.m. so that it could be locked in the special luggage storeroom until our return on Sunday. Then it was an early night for us, ready for the early start tomorrow.
---