Day motor to Puteri Harbour, Malaysia

Scott-Free's blog
Steve & Chris
Wed 18 Oct 2017 19:58
01:25.074N 103:39.452E
Wednesday 18th October 2017
Distance run: 45.6 nm
We slipped the lines at 0600 and motored out of Nongsa Point Marina and into the Singapore Strait, the stretch of water that separates Indonesia from Singapore, and one of the busiest shipping channels in the world. The plan was to go west on the Indonesian side of the strait until we found a suitable crossing point, and then to turn north to cross first the east-bound shipping channel and then the west-bound, at as close to a 90 degree angle as possible. That done, we would then follow the coast of Singapore around its western end and turn right into the Johor Strait, the much narrower stretch of water that separates Singapore from Malaysia.
As we motored along on the Indonesian side of the Singapore Strait,
we could just see the high rises of Singapore in the distance.
All went very much to plan, with a convenient gap between ships appearing at an appropriate point for us to cross, and we arrived on the Singapore side of the strait just to the east of Raffles lighthouse. After three months we were finally out of Indonesian waters. A fast Police launch approached at this point and we thought we might be in trouble for straying too far into Singapore waters, but it just zipped through the gap between us and the lighthouse and was gone, leaving only its wake to bounce us around a bit.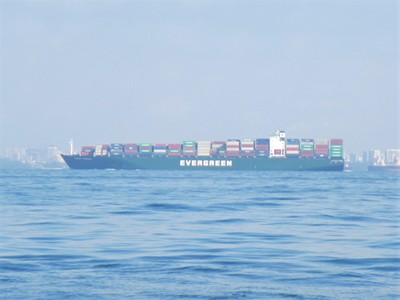 Many ships carried containers, some were tankers, and others were specialised in one way or another, some heavily laden, others empty
and high in the water.
We passed proper buoyage – this one a north cardinal (yes, we are passing it to the south!) and lots of floating rubbish.
As we started to cross, we aimed for the middle of Mr. Hyundai, at the same time passing in front of Mr. Black-and-white, still some way off.
Round Mr. Hyundai's stern... and then wait while Mr. Widebeam
crawled past almost in the central reservation, obviously in no hurry.
Then change course to head for the middle of Mr. Delta Tankers.
Once round his stern we were clear of the big ships. The chart plotter shows a grey mass of AIS targets, each a ship, as we started to cross.
The list showed 100 vessels, but only because that's the maximum our AIS unit can cope with.
A patrol boat from Singapore takes a look at us and passes by. We continue on our way towards Raffles Lighthouse on the south west corner
of Singapore.
The western end of Singapore is very industrial with large areas of docks, and many ships at anchor. We were surprised to see several oil platforms which were also at anchor, presumably currently surplus to needs. We picked our way through them all and the coast of Peninsular Malaysia came into view as we turned right into the Johor Strait.
Many boats at anchor were being refuelled.
There were also anchored oil platforms.
This rusty container ship had seen better days. This one was so high in the water her propeller was visible.
We still had to keep our eyes peeled for boats on the move. This tug passed very close to our stern, then gave us a cheery wave.
These fast ferries are everywhere and pass close and at speed.
A couple of hours later we passed under the bridge between Malaysia and Singapore, and were soon in view of Puteri Harbour Marina. We hadn't been able to raise them on the radio, so went in and were just deciding where to park while we found someone to tell us where we should be, when three chaps appeared in a golf cart and shouted to us to go to berth 25. We had no idea where that was, but shortly after that they all appeared on a pontoon and beckoned us in. They took our lines, tied us up and welcomed us warmly to Puteri Harbour. We had arrived safely in Malaysia and paperwork could wait until the morning. Right now it was time to chill out with an anchoring beer before exploring another new country.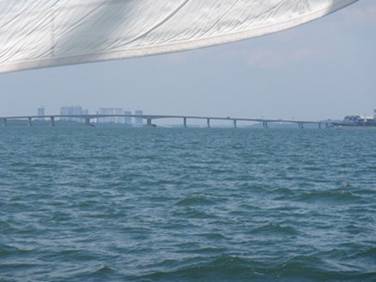 The Second Link Bridge comes into view below the sail. Unbelievably a fisherman had laid his net right across the archway.
Fortunately he pulled it in just before we got there. The height limit sign says 25 metres at the centre. 5 metres to spare!
---