Jeita Grotto, Byblos and the Virgin of Harissa

Scott-Free's blog
Steve & Chris
Fri 11 Jun 2010 22:48
Friday 11th June 2010
An early start today for a full day tour, beginning at the Jeita Grotto. We were not sure if we wanted to do this visit, as we have visited various caves before and thought it might just be the same old same old, but these caves were well worth seeing. The rock formations, stalagmites and stalactites were stunningly beautiful, and my mouth dropped open in awe at every turn. The caves are on two levels, and when we had walked through the top level we were taken by boat through the bottom level. Beautiful.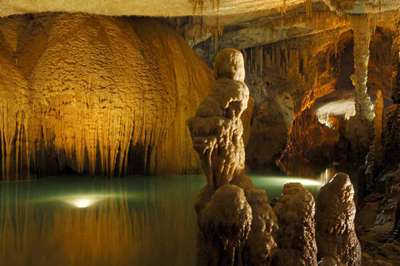 Stalagmites and stalactites in Jeita Grotto. The Guardian of Time, outside the lower cave.
We then went on to the ancient city of Byblos, where syllabic writing, the precursor of our alphabet, was invented in 1000BC. Byblos has the remains of huts dating back as far as 5000BC and of city walls from the early Bronze Age, some 2800 years BC.
Temple of the Obelisks, Byblos, 1600 BC Taking a rest among the ruins of Byblos.
Crusader fort, Byblos, 1200AD
Our last stop was up at the heights overlooking Jounieh and the holy site of the Virgin of Harissa statue.
The Virgin of Harissa. Taking a rest in the shade below the Virgin of Harissa.
View over Jounieh, and the harbours and marina, from the Virgin.
By now we were ready to get back to the marina where a swimming pool awaited, ready to soothe hot, aching limbs before dressing up in our glad rags for the Rally dinner hosted by the nearby posh hotel. This turned out to be one of the best evenings laid on by a host country, with plenty of excellent food and drink and good entertainment. The proximity of the swimming pool was just too tempting for some, and when people began to be launched into the deep end fully clothed, we decided it was time to wend our weary way back to the boat.
---