Shellbacks!

Scott-Free's blog
Steve & Chris
Mon 1 Apr 2013 18:19
00:33.671S 88:20.898W
Monday 1st April 2013
Distance run day 5: 116 nmiles
Distance run day 6: 108 nmiles
Total distance run: 829 nmiles
Yes, we are now officially 'shellbacks'! This, apparently, is the title earned by sailors who have sailed across the equator. We achieved this feat at around 1730 yesterday, crossing, obviously, from the northern to the southern hemisphere. Such an event cannot go uncelebrated, so we baked a 'crossing the equator' cake (well chocolate brownies actually) and cracked open a can of beer, which we shared with Neptune in the age-old tradition. Our sailing buddies Rod & Mary on 'Sheer Tenacity' crossed at the same time, as the chart plotter photo will attest. They are the little triangle to the right with the label 'Sheer Tenacity' (their AIS signal), we are the mass of arrows/lines on the left.Our icon is actually a black boat shape, the back half of which you can see, the front half of which is obscured by a green line (our heading), a big blue arrow (current) and a yellow arrow (wind). The dotted line out of our stern is our track i.e. where we've just come from!) Note the GPS position of the vessel (i.e. us) displaying all the zeros.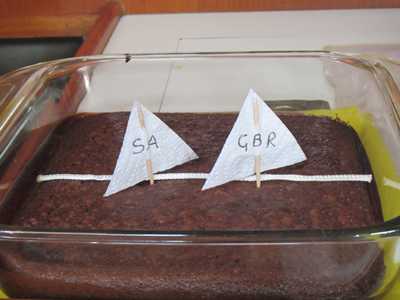 The chart plotter screen showing us crossing the equator. 'Crossing the equator' chocolate brownies.
Skipper enjoying a celebratory Balboa.
The distance we are making is reducing each day as the winds become lighter and more variable around the equator. We have used the engine very little so far though, which is a bonus. Today the wind is very light and so we hoisted the cruising chute for the first time in ages, and she is doing a wonderful job of giving us 4 knots of speed in 5-6 knots of wind. Of course the sea is flat, with just a gentle swell, so that helps, and we have a fair current too. Since we won't make landfall before dark, we are not in any hurry as we'll only have to wait around until dawn if we get there any sooner. But we hope to drop anchor in Puerto Baquerizo Moreno, Isla San Cristobal, Galapagos sometime tomorrow morning.
In the meantime we're just enjoying a gentle sail in the sunshine, with nothing to see but sea ( and Sheer Tenacity off the port beam!) unless we are treated to another acrobatic display by the Pacific dolphins.
The cruising chute doing a grand job.
---