Willemstad to check in

Scott-Free's blog
Steve & Chris
Mon 22 Oct 2012 18:50
Monday 22nd October 2012
Checking in to Curacao involved a bus ride into Willemstad, the main town, and then quite a bit of walking to find, firstly the Customs building, and then, on the other side of the river, Immigration.  It was not an unpleasant walk, however, as it gave us an opportunity to see the town with its brightly painted buildings.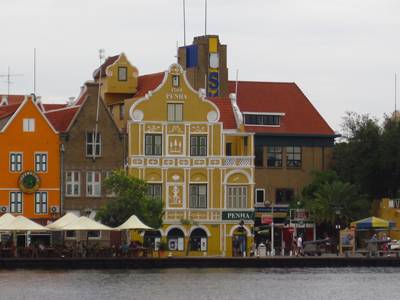 Dutch style buildings in Punda, the downtown area of Wilemstad.           Across the river – Otrabanda – the other side.
The Queen Emma floating pontoon bridge.                                                         On the free ferry that shuttles across the river when the bridge is open.
After completing the necessary formalities, which is very thirsty work, it was a pleasure to sit at the riverside pavement café, sip a cool beer and watch the world go by.
With Mary & Rod (Sheer Tenacity)and cold beers.                                             Steve considers whether to make a visit to the shop behind him…
Not the quickest checking-in we've ever done, and not with the cheeriest of officials either, but a nice day out all the same.  We're cleared to stay for up to 90 days, but doubt we'll stay that long!
---