Celebrating, stitching and stealth

Scott-Free's blog
Steve & Chris
Mon 3 Aug 2015 21:00
Monday 3rd August 2015
We went ashore to the dollar bar again on Friday evening, this time to celebrate Rod's birthday, and then back to State of Mind for Brenda's delicious chocolate cake. As this was our third evening out in a row, however, we were soon flagging and so it wasn't a late one for us. Since we left Savusavu on the 22nd June, we had become used to quiet anchorages with just our two boats in, and simple village life. All this partying and socialising was a bit of a shock to the system!
So the next few days were spent chilling out and doing some gentle chores. One of these was to mend the yankee. Fortunately there was a lull in the wind long enough to unfurl the sail and get it down on the deck. Closer examination of the split showed that it was two rows of stitching that had given out. We had mixed feelings over this – annoyance that Willis Sails did not seem to have re-stitched this seam when we sent it off to their loft in New Zealand for overhaul and mending, and relief that it was only the stitching and not a tear in the cloth which would have required a repair by a sailmaker.
We set about re-stitching the seam by hand, with some advice from Rod and Mary who have more experience at this than us. They suggested rigging the sail so that we could sit either side of it, and then using two needles, pass them alternately through the existing holes to each other. After first running some large tacking stitches through one seam to hold the edges together, the two-needle system worked very well, and produced a very strong seam. The split was 1.2 metres long, and we estimated we passed the needles through the cloth over 2,000 times. It took most of the day to complete, but was a job well done.
I pushed the needle through from this side... to Steve on the other, who then pushed it back.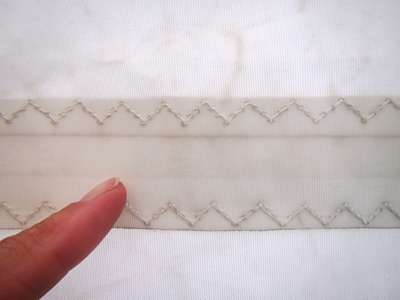 Each zig and zag had three small stitches. My finger demonstrates just how small.
One evening we invited Bear and Pepe over for sundowners, and usually we know when a dinghy is approaching the boat as the noise of the outboard gives it away. This particular time for some reason there was no such warning, and we simply heard their voices off the back of the boat. As Steve got up to help them on board, saying, "They've arrived in stealth mode", Pepe appeared at the top of the ladder looking thus:
Pepe in 'stealth' mode!
It gave us a real start, but at the same time had us in stitches. She denied it was 'stealth' tactics, claiming it was to keep her warm. Now if we had been in Plymouth in the middle of summer we might have believed her, but in Fiji?
---