Spinalonga and Elounda

Scott-Free's blog
Steve & Chris
Wed 17 Sep 2008 15:34
We left Iraklion early and had breakfast under way, glad to get away from the place. It might have been a different story if we had found a safe berth in the inner harbour, but somehow we felt not.
We motor sailed along the coast to Spinalonga lagoon. Here it is enclosed on all sides except the narrow entrance in the north and an opening at the south where a causeway joins the larger of the two islets to the main island. Depths in the lagoon are only between 3 and 6 metres, but with 1.75 draught we are fine.
We anchored first in the lee of Spinalonga island, the smaller islet in the north, which used to house a leper colony and took the rib to the island to have a look around.
Remnants of the houses lived in by lepers until 1957, surprisingly recently.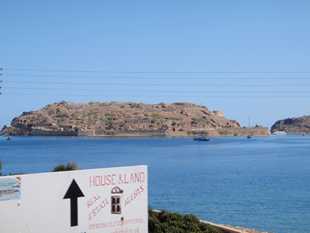 Spinalonga island taken from Crete - the sign got in the shot by accident as we passed by on a road train!
We then moved the boat down the lagoon and anchored by the beach in Elounda. (Sailing friends in this part of the world would be interested to know that Rod Heikell calls this town Skhisma in the pilot.) Time for a swim and a siesta, before heading ashore to find a taverna.
We had a peaceful night at anchor and went ashore this morning to explore beyond the taverna. Elounda is a small town which obviously caters for English holidaymakers, but we found it much more relaxed than previous tourist towns. In one of the supermarkets we found and couldn't resist buying a juicing machine. Freshly squeezed orange juice is common in tavernas in Crete, and delicious, so we thought we'd invest in a machine so that we can squeeze our own. Back on the boat we enjoyed the two most expensive glasses of freshly squeezed orange juice we've had so far!
---