Fa'aroa, Ra'iatea

Scott-Free's blog
Steve & Chris
Tue 20 Aug 2013 01:37
16:48.714S 151:24.725W
Tuesday 20th August 2013
Distance run: 103 nmiles
With very little wind around we knew it would be a slow sail to the next island in the leeward group of Society Islands, so we lifted a very muddy anchor late morning on Sunday for an overnight sail of 100 nmiles to Ra'iatea. We arrived at Passe Iriru on the east coast of the island next morning and were pleasantly surprised to find that although on the windward side of the island, the water in the pass was completely flat. It was fairly easy to pick out, although we would not have wanted to do so without the aid of the chartplotter. The pilot book gives a sketch of the coastline and tells which landmarks to line up before entering the pass, to avoid the reef on either side, but the island was awash and not visible and the clouds were covering the peaks of the hills! Fortunately though, the French are pretty good at maintaining their buoyage, and there was a marked channel to follow.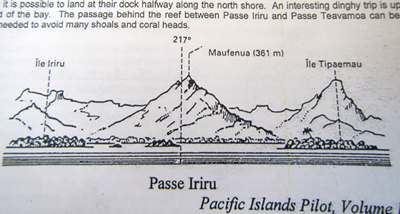 The pilot book sketch for entering the pass... hmmm....thank goodness for GPS and buoys!
We picked up a Sunsail mooring ball (this is the first island we have been to where they have charter boats) in Baie Fa'aroa and waited to be thrown off by a charter boat, but none appeared so we stayed there. Next morning we went for a trip in the dinghy up River Fa'aroa at the head of the bay, and joined a tour given by James of the 'gardens'. He seems to be an unofficial guide, but gives lots of information about the trees and plants along the way. We spent an enjoyable morning exploring the river – we went as far as we could without getting out and carrying the dinghy over some shallow 'rapids'!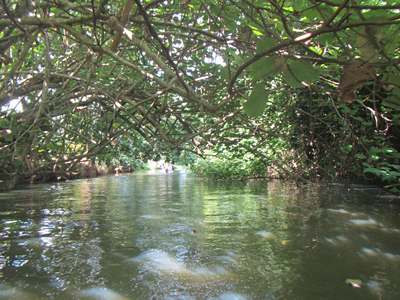 The mouth of the river was wide and clear, but shallow. It soon became shallower, with overhanging branches.
James telling us about the nono fruit – inedible nut very useful. The view into the hills from the riverbank.
Growing vanilla under insect nets means artificial pollination. The vanilla owner's house.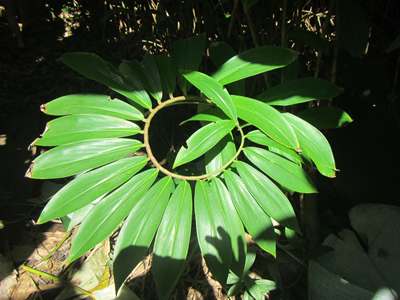 All the leaves growing on the same side of the stem. A fern spore tattoo – the only type I am brave enough to have!
We met Rene and Cheryl on Gypsy Blues whom Rod & Mary knew, and we spent an enjoyable evening aboard Sheer hearing about their trip to New Zealand last year.
---