Jumping through hoops

Scott-Free's blog
Steve & Chris
Mon 19 Oct 2015 21:27
Monday 19th October 2015
We moved into the marina last Friday morning, and spent the morning checking in. It was a long walk to the Immigration office and back, but the rest of the formalities were carried out by the marina office staff – lovely, friendly ladies who cannot do enough for the yachties. We had to go back to the boat and wait for two hours on board. If Customs officials did not arrive during that time, they would not be coming and we could consider ourselves cleared. Very simple and easy formalities, completed without fuss, or indeed expense.
Our next and most pressing job was to begin our Australian visa applications. This turned out to be a different story. The applications are done online, with a dozen or so pages of questions to answer. Unfortunately, the marina wifi just wasn't good enough, and twice I got halfway through the dozen pages and the connection was lost, and with it everything I had done so far. So we headed off into town to an internet cafe, and there we managed to get the applications submitted. It took a couple of hours and cost 3,000 CPF – about £18! We considered it a necessary expense, though, as we cannot enter Australia without a valid visa.
Once submitted, we headed back to the boat and found we had immediate responses acknowledging receipt and saying, for me, that I did not need any health checks. Unfortunately, Steve's response asked him to complete a further health questionnaire, which we managed to do with the marina wifi. The response to this was that he needed not only to get a chest x-ray, but have a medical too. What a pain. By now it was too late to organise anything before the weekend, so we put it on hold until Monday. We both needed to provide documentary evidence such as passports etc so I spent the weekend getting together all the required paperwork and scanning and uploading to the applications. We needed up-to-date passport-approved photos, and this gave us a good reason to explore the town as we set off to find a camera shop recommended to us by David, the OCC Port Officer here in Noumea.
The town of Noumea is the most modern and developed town we have seen since Suva, the capital of Fiji. Lots of people and traffic, using a pedestrian crossing is a must if you don't want to risk life and limb getting across the busy roads. Drivers do at least stop for pedestrians at the crossings here. There's a multi-screen cinema and a mixture of small shops and shopping malls, cafes, restaurants and coffee shops. And patisseries. Fresh baguettes and pastries – well this is a French Island. Tres bon!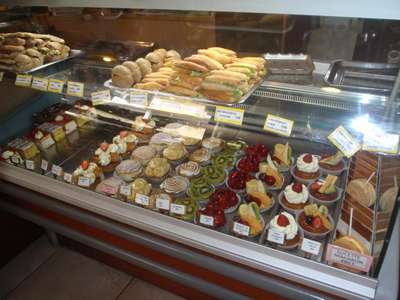 Steve discovered this gem of a patisserie – 'La Vielle France' – just a five minute walk from the marina.
This morning we made an early start and Catherine in the office made a couple of phone calls for us. Doctor for Steve's medical at 14:30, dentist for me at 14:00, and drop by the Radiography lab at any time for the chest x-ray. By the end of the day we had walked a good few miles of the town and completed all tasks. Now we needed to wait for Steve's blood test results to come through the following day so that the doctor could finish inputting his medical report online direct to the visa application website. The chest x-ray had been completed without problem and was declared to be all clear. I had had my broken wisdom tooth filled, quickly and painlessly, by a very nice young dentist lady in a spotless, modern dental surgery using up to the minute techniques. She spoke good English, although it was a little rusty at first, and explained that as there is nowhere on Noumea for dentists to train, they all do their training in France.
So, now we had done all that we could for the applications, we could start to relax a bit and start preparing the boat for the 1000 nmile passage to the east coast of Australia.
---