Overnight to Pangkor

Scott-Free's blog
Steve & Chris
Tue 7 Nov 2017 14:57
04:12.652N 100:36.071E
Tuesday 7th November 2017
Distance run: 149 nm
We slipped the lines at Admiral Marina, Port Dickson at 0900 and headed out in nil wind for a long motor overnight to Pangkor.
We passed the old and new lighthouses on One Fathom Bank in daylight. They seemed to change position as we went by.
It was an uneventful passage, unless you count the 3-hour storm that started soon after I came on watch this morning. As the sky lightened, the extent of the black clouds became obvious, so I checked the radar. Ok, then. Nowhere to go to get out of this one. Its image covered the entire radar screen. Just have to sit it out.
So it was a very wet watch with thunder and lightning all around, and at one point immediately above us, which was scary. Every time I put my hand on something metal, I moved it off again quickly – just in case! Fortunately there was not much wind in it, so the seas didn't kick up much, but visibility was very poor for a while. Eventually it passed over.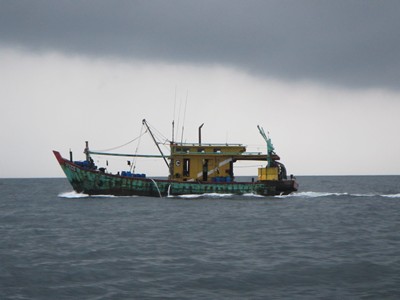 One of the fishing fleet passes close by under gathering storm clouds, and then cut right across our bows, heading for a gap in the clouds.
We were just able to make out White Rock as we passed by. Mosque on Pangkor Island.
We called up Pangkor Marina as we approached, but they were full, so we attempted to find a suitable anchoring spot. The depths outside the marina were very variable, and we had 0.3m under the keel one minute and 12m the next. As we were trying to get the anchor down a second time, a small motorboat approached us with James, the marina owner/manager in, and he said he could squeeze us into the marina if we rafted up to Zefr1. Up came the anchor and we followed him in, soon to be tied safely alongside Anna and Gary on the 'fuel dock'.
It was a great relief to be inside the marina, as it meant we would be able to do some inland travel for a few days. Our boat insurance will only cover the boat unattended at anchor for 24 hours, which would have limited our explorations inland to day trips only. Road trip coming up!
---