Cook's Bay, Mo'orea

Scott-Free's blog
Steve & Chris
Sun 18 Aug 2013 03:06
17:30.265S 149:49.199W
Saturday 17th August 2013
Distance run: 23 nmiles
We spent our last evening in Tahiti enjoying moules marinieres onboard S-F with Rod & Mary. We had discovered enormous green-lipped mussels in Carrefour and decided to treat ourselves before we left. Steve worked his usual culinary magic on them and they were absolutely delicious, with crispy baguette to mop up the sauce. Yum!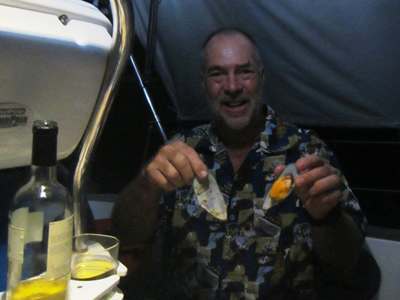 The green-lipped mussels were delicious. Rod showing off his whopper!
We slipped the mooring ball in marina Taina 08:30 on Tuesday and after receiving permission to cross the airport runway twice and then to leave through the Pass, we waved our goodbyes to Tahiti. With just 20 nautical miles to go to get to Cook's Bay on the north coast of Mo'orea, we were looking forward to a pleasant sail to try out the new main. The wind was forecast at 20 knots, so we knew it would be a fast sail and kept a reef in the main. This was when we discovered that, not only do we only have two reefing marks on the new main, but they are in different positions on the sail than before. So the first reef actually gives us a smaller sail than our old first reef did. Anyway, we decided to leave it at the first reefing mark for today, and just as well we did, because once we were out of the wind shadow of Pape'ete, we had 25-28 knots steady and gusts of up to 38 knots. The sea, of course, joined in the fun and we had a 3-metre swell and wind waves leading us a merry dance.
Not surprisingly we made a fast, if somewhat lively, passage to Cook's Bay, and were anchored at the head of the bay by lunchtime. The wind seemed to follow us into the bay, but once we were halfway in, it eased off and fell away completely by the time we got to the head. Except for the gusts, that is, that blasted suddenly, every so often, from the surrounding hills, at up to 30 knots! The topography around the bay allows for gusts to enter from a variety of directions, so we needed quite a bit of swinging room. Fortunately there was plenty of space and the holding is good, and we held fast through a gusty first night.
Entering Cook's Bay, Mo'orea Calmer water and clearer skies the next day.
Gusts of wind funnel through these rocky outcrops. S-F at anchor in Cook's Bay, Mo'orea
The hole in this rock looks like an eye... And here a gorilla is playing a piano....look carefully!
Here he is again, closer – got it? Under his arms is a small hole.
The following morning the wind dropped outside and the gusts stopped. Since then it has been a very pleasant anchorage. There is a road that runs around the bay and we hear some noise, but the traffic is light and hardly noticeable, especially after the five-lane highway in Pape'ete! We took the rib ashore and went for a walk around the head of the bay. There doesn't seem to be a village centre here as such, and houses, restaurants, hotels and a couple of supermarkets line the road. Across the bay from us is a church where they were holding an Assumption Day service on Thursday, and the singing was quite delightful to hear.
Sirena of Oare were anchored in the bay when we arrived, and Eric and Dee stopped by to say 'Hello' on their way ashore. We invited them for sundowners, and had a very pleasant evening, which we then repeated the following night aboard Sirena. They were planning to sign up for a trip to feed the stingrays and sharks on Friday, and asked if we were interested, so we decided to join them. It turned out to be a very enjoyable day. It was so nice to be driven through the reefs and not have to be constantly looking out for coral heads! Other than to see the fish and coral of course!
Eric, Dee, Rod & Steve got into the water among the stingrays and black-tipped sharks, while Mary and I watched from the boat. We had an excellent view as the water is only waist high here and very clear, and neither of us had any desire to touch or be touched by either a stingray or shark! Apparently the rays are very smooth to the touch, but this is one tactile experience I can happily live without! Steve enjoyed it enormously.
We then had lunch on one of the motus on the north-west corner of the island, with time for snorkelling among the coral heads. We chose to stroll around the beach to walk off a very good buffet lunch. After a very interesting demonstration of how to open a coconut, which we could have done with a long time ago, we were driven back through the reef, this time at speed, which was quite enjoyable, and back to the bay with an hour to spare before heading back to the Bali Hai Hotel for Happy Hour, followed by a traditional dance show and dinner. All in all (sorry Pepe, it just slipped in and I couldn't say it without thinking of you!) a very enjoyable day in excellent company and wonderful surroundings.
Stingrays passing the tour boat. The underside of a stingray showing its mouth.
The black-tipped sharks lurked around the edges....
The dance was wonderful. The dancers have so much enthusiasm.
Perhaps not quite as much enthusiasm from Eric & Rod! Or, indeed, from Steve! Perhaps they needed a costume....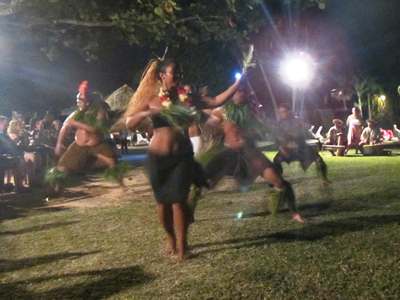 Such energy – I could watch it for hours, especially the men....
Thought we might leave today for either Huanine or Raiatea but the forecast was for very light winds. So maybe tomorrow........
---