Boat repairs

Scott-Free's blog
Steve & Chris
Sat 18 Jul 2015 21:52
Saturday 18th July 2015
We didn't go into the village today, as we spent all day replacing stanchion bases on deck. As daylight had dawned on the passage here, I noticed that the diesel cans which are normally standing along a wooden plank on the guard rail were in fact laying on their sides on the deck. Further inspection showed that both the plank and the stanchions to which it is attached were also on the deck. Fortunately the big seas had calmed down as we were passing between islands, and so Steve was able to go out on deck to get a closer look.
The tops of the bolts at the bases of the stanchions either end of the plank had sheared off, which meant that the diesel cans were effectively hanging by the guard wires from the next nearest stanchions, at the bow and half-way down the deck. Fortunately they had fallen inwards onto the deck and not outwards over the side, or they would probably have ripped the whole line of stanchions off that side of the boat. We needed to get their weight off the guard wires immediately. So on hands and knees we untied the diesel cans and one by one slid them along the side deck, then lifted them into the cockpit where they had to stay until we anchored.
Today we set about removing and then replacing the broken bolts. Access to the underside of the deck and the larger part of the bolts and their nuts is from the inside of the boat, so we had to empty shelves in the saloon and the forward cabin before taking down the headlinings – the panels that line the ceilings below – in order to expose the bolts. Then all eight had to be removed, the holes drilled out to remove old sealant, and then new bolts and sealant inserted. Because of the location of the bolts, we could get less than a quarter turn on a couple of the nuts, and so this turned out to be a long and laborious task which took most of the day.
There is a joke amongst yachties, that cruising is simply boat maintenance in beautiful places. Today it was no joke!
The diesel cans tied to the plank, attached to two stanchions. And seen from outboard.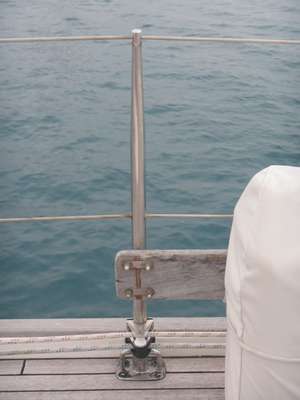 The stanchions hold up the guard wires around the deck. New bolts in place – just need to clean up the sealant now!!
---