A few jobs sorted and off we go

Scott-Free's blog
Steve & Chris
Sat 20 Oct 2012 21:18
Saturday 20th October 2012
As always, as soon as you leave an island where parts are easy to come by, you find you need something fairly major.  This time it's the batteries.  We have three banks of batteries on Scott-Free.  One serves to start the engine, one the generator, and the main domestic bank to power all the other systems on the boat (including the navigation instruments, communication systems, lights, anchor windlass, furling winch, fridges, autopilot and anything else that needs electricity to work such as computers, ipods, mobile phones etc.)  The first two batteries are fine, but the main domestic bank of four batteries has been gradually losing its ability to hang on to a charge, and now suddenly is dropping below 12v very shortly after charging.  Dammit!
There is a small branch of Budget Marine chandlery on the island, and so with warnings that we would have to pay a fortune and wait weeks for batteries to be delivered by ship to the island, we went in search of replacements.  Well, luck was on our side on this occasion, as the manager of Budget had just taken delivery of six new batteries for his own boat, but assured us he could wait a couple of weeks for the next delivery and we could have four of his.  They were more expensive than elsewhere, but that's the price you pay for island shopping.  So, we paid up and arranged for him to deliver them to the dive jetty near our boat at 10 a.m. next day.
Next morning we disconnected and removed the old batteries and loaded them into the RIB.  It's at times like this that I remember that I had a very sedentary job in my former life, and it certainly did not involve hauling enormous batteries over the side of a boat!  It's a two-handed job, so feet had to be squarely planted before lifting and fingers crossed that we weren't hit by wash just as I was leaning over the guard rail!  After the short ride in the RIB we then had to unload the batteries onto the jetty.  Fortunately the Budget manager was as good as his word and arrived promptly at 10, so I conveniently forgot I am a modern, liberated woman and allowed the men to do the lifting.
Back at the boat we decided to use the outboard lift to winch the new batteries on board, and within an hour they were fitted and working.  Our bank account is £700 lighter, but the boat has a new heart.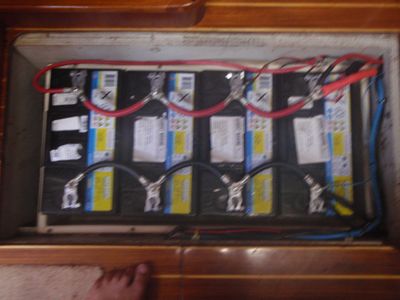 Old Trojan batteries fitted in Turkey just over 2 years ago. Kaput.                             New Vetus batteries – fingers crossed they last longer than 2 years!
Another unexpected job turned out to be replacing the propeller anode.  This we had replaced in Grenada, just before leaving for Trinidad, so not even three months ago.  The anode is a piece of sacrificial zinc which is attached to the centre of the propeller.  Any stray electrical currents in the water will attack this and wear it away rather than attack important bits of metal like the propeller.   The water here is so clear that the underneath of the boat can be easily seen when snorkelling, and we noticed with great surprise soon after arriving that the anode had worn almost completely away.  Steve decided now would be a good time to try out his Mini B scuba equipment and replace the anode himself.  It was surprisingly easy to do, but it is worrying how quickly it wore away.  The photo shows the anode Steve removed next to a brand new one.   
The anode Steve removed on the right, after less than 3 months on the prop.
Having discussed this with other cruisers and in the chandlery, it became apparent that we are not the only ones having this problem.  Several other cruisers said that theirs were now only lasting 3 months, and less if you spent time in a marina.  It seems the quality of the zinc is not what is used to be.
Next problem – the generator exhaust sprang not one leak but two, and was emitting gas from one and water from another.  This was an easy one to solve though, because we had already had to find a welder to mend the boarding ladder hinges before one half of the ladder parted company with the other.  Here was another example of the helpfulness of the locals – having phoned to explain what we needed done and that we had a heavy ladder and no transport, someone from the welding company came to fetch Steve and brought him back again after.  So when he phoned about the exhaust – no problem.  The boarding ladder cost US$65, having involved the welding of four hinges, and the exhaust cost a mere US$13.
The generator exhaust.                                                                                                                 The holes were in the bend.
We finally had a chance to try out the raincatcher one squally day.  We attached a length of hose to the drain and when the heavens opened, rain went…..everywhere except down the hole!  We spent some time reattaching the fixings which stopped the rain escaping off the edge of the canvas, and eventually put in a dive weight to direct the water down the drain.  Finally we got it working and rain drained down the hose and into the water tanks, just in time for it to stop raining!  But at least we know we can make it work and take advantage of free fresh water.  We also caught loads of rain in various buckets and trugs which came in useful for rinsing off salt water after snorkelling.
The raincatcher up and running.                                                                                               One good downpour yields gallons of fresh water.
Jobs sorted, it was time to think about moving on.  Steve had not done as much diving as he had hoped, though he did manage to get one dive in with Jackson, Di and Randy.  But there was so much to see just snorkelling, that I don't think he really missed out.  We met up with Rico & Jackson and Di and Randy at Karel's beach bar for a last drink together, before we set off for Curacao tomorrow.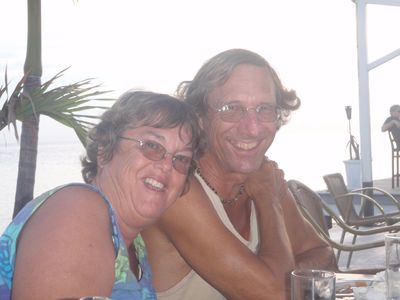 Rico & Jackson of Apparition – we first met in Turkey.                                                     Randy & Di of Sinbad – cruising newbies.
---