Rozelle Bay

Scott-Free's blog
Steve & Chris
Tue 8 Dec 2015 23:42
Tuesday 8th December 2015
Rozelle Bay is on the south shore of Sydney harbour in the Glebe area. To reach it we turned left after the bridge and headed south towards the Anzac bridge, with Pyrmont Bay and Darling Harbour to our left. We took the right fork, past a moored cruise liner, through the east channel of the permanently open old Glebe Island Bridge and under the Anzac Bridge which replaced it, before turning left to check out the Blackwattle Bay anchorage, where there was no room, and then the Rozelle anchorage, where we just about squeezed in.
We passed old wharf buildings. The harbour bridge now behind and to our left.
Heading towards Anzac Bridge, with the old disused and permanently open Glebe Island Bridge just before.
Only the east channel of the old Glebe Island Bridge may be used, when the light shows green.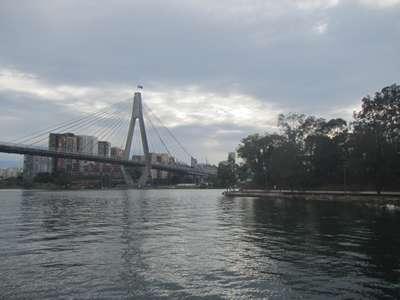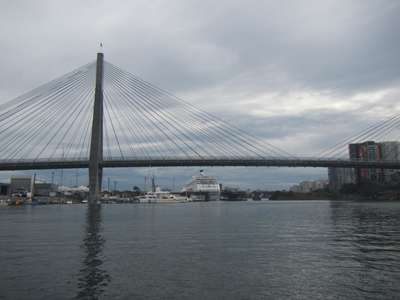 View from the anchorage, across Anzac bridge to Darling Harbour – and back out the way we came in.
Looking left from the anchorage... ...to the end of the bay.
There is a shallow spot in the middle, so it looks like there is more space than there is!
Later, this cruise ship arrived, and it became obvious why only the east channel of the old bridge is used!
---