Natural Bridge

Scott-Free's blog
Steve & Chris
Mon 9 Jan 2017 21:50
Monday 9th January 2017
We arrived at Natural Bridge mid-afternoon, and set off on the circular walk that would take us under the natural archway cut into the rock by flowing water. The information board explained how the natural arch has formed.
Pretty views of the natural arch and waterfall.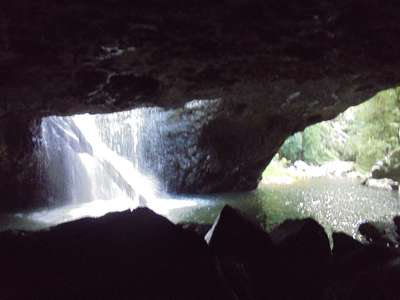 The whole of the arch. Inside the cave there are glow worms, but obviously not visible until dark.
A silly shot as the water pours onto my head. Hmmm. A much more sensible shot with the waterfall between us.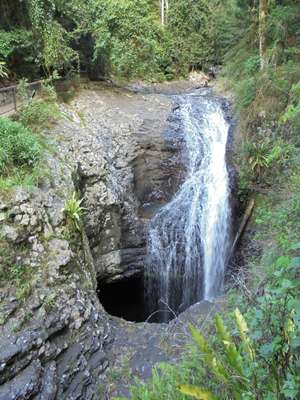 Views as the water flows under the arch.
Signs ask us not to swim or enter the water. Clearly this is a very brazen eel, ignoring the signs. Or maybe it can't read.
A strangler fig has killed the host tree. Quite impressive buttress roots.
A rather large vine. (I am there just for scale!)
After a very pleasant stroll, we set off for Binna Burra Mountain Lodge. Once again we retraced our steps, this time out of the valley, turned left again and drove up the mountain road. This was an experience in itself, sometimes only one lane wide, sometimes on a ledge on the side of the mountain, sometimes both. The views were breathtaking, at least they were for me, Steve wasn't allowed to look at anything other than the road! We arrived safely, thanks to his expert driving, and collected our keys which were in an envelope taped to the door of the closed Reception as we had been promised.
We just had time to unload our bags, settle ourselves into our room and have a quick wash and brush-up before heading off for dinner. The dining room had wonderful views out over the mountain, and we watched the sun set over them as we enjoyed a glass of wine and a very pleasant meal.
---